Ron DeSantis Was Trying Not to "Piss Off" Trump Voters as Far Back as 2018
Leaked videos show how DeSantis has long been concerned about alienating Trump's base.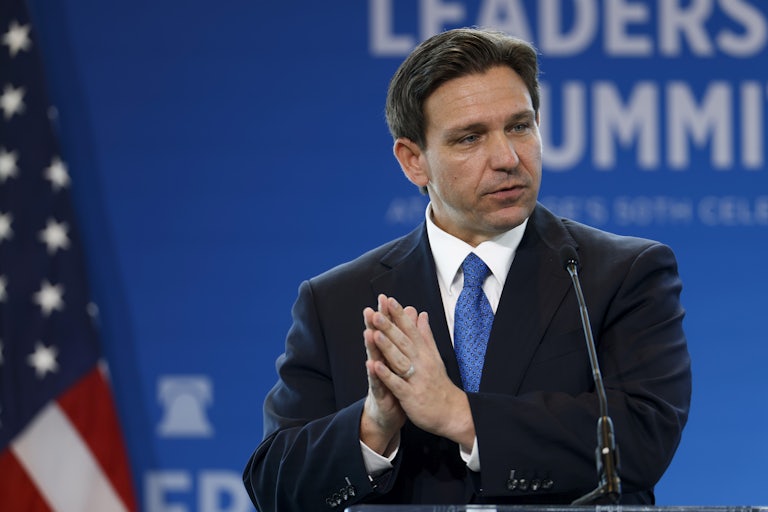 Anna Moneymaker/Getty Images
Ron DeSantis
"I have to frame it in a way that's not gonna piss off all his voters."
It is 2023, and while Ron DeSantis still hasn't announced his run for president, he's apparently been formally preparing for at least five years.
Streams of leaked footage from 2018 show the Florida governor sparring debate questions and talking strategy. In footage obtained by ABC, DeSantis mulls how to win over Trump voters, whether the NRA is "quite the boogeyman the Democrats think it is," whether the NRA even donated to him at all, and how he can remind himself to try being "likable" instead of unsettlingly aggressive.
In other footage, Representative Matt Gaetz coaches DeSantis and tries to tell him that he comes in "too hot" and prep him for how to respond to attacks from his opponent.

DeSantis, who was preparing for the 2018 gubernatorial race at the time, was accused of making a racist comment by asking voters not to "monkey this up by trying to embrace a socialist agenda" in voting for Democrat Andrew Gillum, who is Black. DeSantis was also criticized for close association with David Horowitz, who, among other things, has complained about Black people not feeling "gratitude" for white people's "sacrifices" in ending slavery. And reports claimed that DeSantis was an administrator for a racist Facebook page.
"It deserves to be hot!" DeSantis replies in exasperation. "I mean, I'm sorry."
"Kavanaugh showed that when you say 'fuck this' …" DeSantis suggested, referring to Brett Kavanuagh's success in whining and yelling enough about the numerous allegations of sexual assault against him that he was still able to weather the storm and become one of nine jurists in one of the most powerful institutions in America.
Not necessarily a great role model for someone trying to prove themselves as definitively innocent or trustworthy.
DeSantis is said to be undergoing more debate prep and considering skipping the step of launching an exploratory committee, instead diving right into the race sometime next month. The final touches of the longtime coming presidential campaign follow a remarkably hostile and incendiary state legislative session, in which the Florida governor has attacked millions of LGBTQ people, students, teachers, women, immigrants, people fearful of gun violence, Disney lovers, and fans of Dwyane Wade.