You Suspected the Clarence Thomas-Harlan Crow Story Wasn't Over? You Were Right!
A new report reveals how the billionaire megadonor paid the tuition of the Supreme Court justice's grandnephew.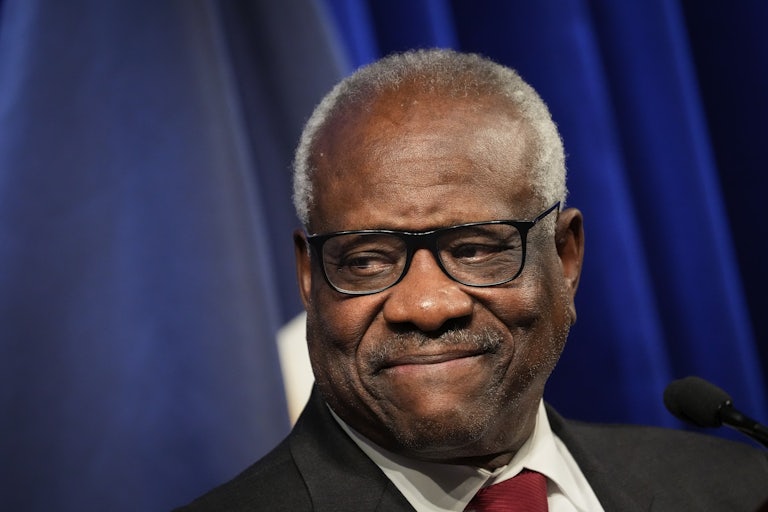 Drew Angerer/Getty Images
The hits keep coming on the rampantly crooked relationship between Supreme Court Justice Clarence Thomas and megabillionaire GOP donor Harlan Crow. This time, ProPublica has revealed that the billionaire footed the bill for the private school tuition of a boy Thomas was raising "as a son."
Spanning back to the 90's, Thomas had been raising his grandnephew, Mark Martin; Thomas had taken legal custody of Martin when he was six years old. In 2008, Thomas sought to send him to Hidden Lake Academy, a private boarding school in northern Georgia.
ProPublica reporting revealed that Harlan Crow's company paid for the private school's over $6,000 per month tuition. ProPublica saw the bank statement of one month, though a school administrator said Crow paid for the entire school year.
Martin had also attended a separate boarding school, Randolph-Macon Academy in Virginia; Crow reportedly paid for tuition for that school as well. ProPublica estimates that if Crow paid for all four years Martin spent at the two schools, the cost may have been over $150,000. But not a penny of these tuition payment gifts were disclosed by Thomas.
What's more is that Thomas had reported a $5,000 gift for Martin's education from a non-billionaire friend—echoing Thomas's tendency to report some gifts, but seldom ones from the likes of Crow. Thomas's only defense of not doing so up to this point has been because he "was advised that this sort of personal hospitality from close personal friends, who did not have business before the Court, was not reportable." The contradiction continues however, as Thomas had reported a few gifts from Crow in the past, like a $19,000 Bible.
"Harlan Crow has long been passionate about the importance of quality education and giving back to those less fortunate, especially at-risk youth," Crow's office said in a statement. "It's disappointing that those with partisan political interests would try to turn helping at-risk youth with tuition assistance into something nefarious or political."
The farce of it all is that Thomas really did not need Crow to pay for the tuition. In 1991, when Thomas first joined the court, his salary would have been some $153,600. By 2008, that number was $208,100. That doesn't even include other income. In 2007, ProPublica notes the Thomases hauled in over $850,000 in income. Thomas had brought in over $1 million in book advances by June 2008. He readily could have paid for the private school tuition for the child he was raising "as a son."
The latest chapter in Supreme Court Justice Corruption follows a now too-big-to-close folder of shadiness. Supreme Court Chief Justice Chief John Roberts's wife, Jane, has allegedly been paid more than $10 million by an array of high-class law firms—at least one of which has argued before her husband in the Supreme Court.
Justice Neil Gorsuch successfully sold a 40-acre property that he had been trying to sell for two years to an undisclosed buyer; the buyer of the nearly $2 million Colorado ranch was the CEO of a law firm that has since had 22 cases with business before the court.
And, of course, the Thomas tales continue to pile up. He has received secret and lavish gifts for decades from the Nazi memorabilia–collecting billionaire and GOP donor Crow, including luxurious island-hopping excursions on superyachts and even a secret deal in which Crow bought Thomas family property and proceeded to upgrade it while Thomas's mother still lived in it. Martin, Thomas's "son," had joined on much of the exotic family adventures with Crow.