Iowa High Schooler Gives Governor Kim Reynolds an Earful Over Anti-Trans Bills
The episode underscores how the Republican agenda is increasingly out of touch with younger Americans.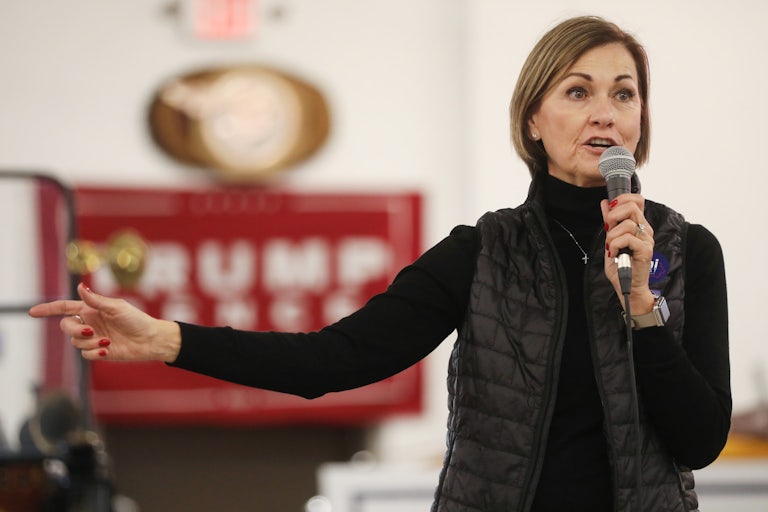 Mario Tama/Getty Images
Iowa Governor Kim Reynolds recently signed a spate of anti-trans bills, banning gender-affirming care for people under the age of 18, as well as bathroom restrictions.
Folks, the kids are, yet again, alright.
Iowa high school student Clementine Springsteen got up onstage during an academic honors ceremony, posed smiling next to Iowa Governor Kim Reynolds, and bellowed to the audience: "Trans rights are human rights!" In March, Reynolds signed bills banning gender-affirming care for people under the age of 18 and restricting what bathrooms transgender students can use.
Springsteen's proclamation came during a ceremony for this year's Iowa Governor's Scholars, an honor bestowed on the state's top academic performing senior students. Springsteen, of Davenport West High School, was one of 423 honorees from across the state's 453 high schools.

Other students were seen sporting T-shirts that read "I read banned books" and "Public money for public schools."
The display brought color to the notion that Republicans are demographically cooked, so to speak. In 2020, young voters played a fairly significant role in delivering the White House to Joe Biden—partially in excitement at the progressive agenda he initially promised, partially in outright rejection of the Republican Party's increasingly reactionary and out-of-touch main line on abortion, the environment, civil and human rights, and guns, among other things.

The pattern has only ossified since then; two years later, Republicans set for a red tsunami, if not at least a red wave, got a ripple instead. The result gave rise to the notion that Democrats benefit when running (and delivering) on agendas that show the harmony, not mutual exclusion, of so-called "social" and "pocketbook" issues. They're helped all the more by the contrast of Republicans insisting on both polarizing people in the realm of social issues and doing little to pad the pocketbooks of anyone who isn't a millionaire.

And the punches keep coming, especially since the conservative Supreme Court's overruling of Roe v. Wade. All six states with abortion on the ballot in 2022 voted to affirm abortion rights. In Wisconsin, a Trump-to-Biden state, voters just flipped the state Supreme Court to liberal control for the first time in 15 years, as they considered looming challenges surrounding abortion rights and the state's absurdly gerrymandered districts.

Last week, both Nebraska and South Carolina narrowly shut down abortion bans; a small handful of Republicans dissented, probably in recognition of how damaging the bans are electorally, let alone on people's actual lives.

And the pattern is just as potent on guns. In Tennessee, after the school shooting that left three children and three adults dead, thousands of people, young and old, have taken to the streets demanding action. The new mobilization has stirred up new scrutiny that has since revealed more of Tennessee Republicans' long-standing corruption, beyond expelling Black members protesting gun violence.

Newly endowed Democratic-trifecta Michigan, where Trump won in 2016, has passed a slate of progressive bills, from repealing anti-union right-to-work laws to enacting gun-related public safety measures, including universal background checks.

It's no wonder that millennials and members of Generation Z are breaking decades-long American tradition, becoming the first generations not, in fact, to grow more conservative as they age. It's also no wonder Republicans have only escalated their attacks on democracy, instead of actually trying to meet voters where they are. Expelling members demanding action on gun violence; punishing transgender members for the act of advocating for the people they are trying to attack; explicitly saying they can only win by suppressing the votes of young people—all this after a U.S. president himself stirred up a riot at the Capitol to try to overturn the results of an election.

The more Republicans come to terms with how deeply unwinnable their agenda is, the more they will try to win through other means anyhow—which only negatively polarizes people even more against them. It's a death-spiraling self-perpetuation. A fearful outcome might be the continuing demise of democracy. But with more and more people being activated, mobilized, and even radicalized—from high schoolers in Iowa and parents in Tennessee to workers in Michigan and abortion voters everywhere—the conservative agenda (and desperate efforts to impose it on us by any means necessary) might fizzle out, the same way 2022's red wave did.