Top Tennessee Republican Who Voted to Expel Democrats Resigns Over Sexual Harassment Charges
Tennessee Republicans are suddenly under the spotlight after voting to expel Democratic lawmakers—and it's not looking good.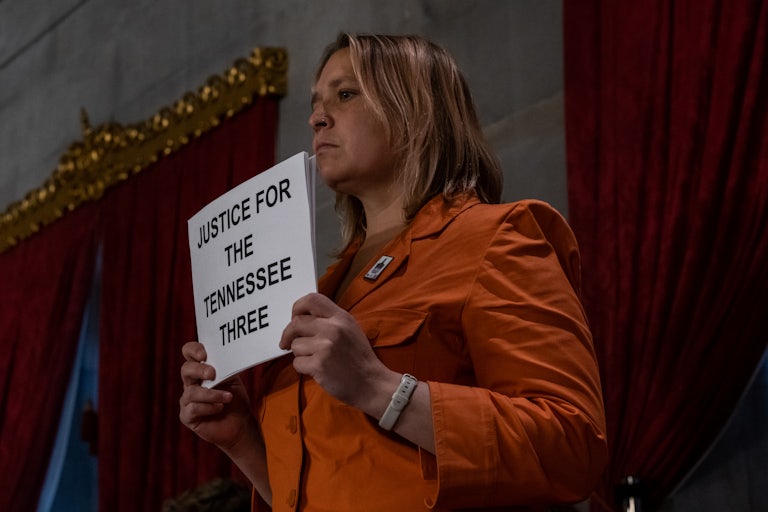 Seth Herald/Getty Images
A top Tennessee Republican who voted alongside his party to expel three Democratic representatives for breaking House "decorum" has resigned after the findings of a sexual harassment investigation became public.
NewsChannel5 reported that a secret ethics subcommittee found state Representative Scotty Campbell, vice chair of the House Republican caucus, guilty of sexually harassing at least one legislative intern, and likely two.
The findings were sent nearly three weeks ago to House Speaker Cameron Sexton, who is facing his own ethics issues over reports that he doesn't actually live in the district he represents. Sexton made no move to expel Campbell, who only resigned after the charges were made public on Thursday.
The ethics investigation into Campbell details the extent of his sexual harassment. In an email the victim wrote to university officials, given to NewsChannel5 by a family member, she recounted some of Campbell's gross behaviors.

On one occasion, after watching the victim and another 19-year-old female intern enter her apartment, Campbell allegedly later "made comments about how … he was in his apartment imagining that we were performing sexual acts on one another and how it drove him crazy knowing that was happening so close to him."

The victim told Campbell, uncomfortably, that that was not happening; the Republican representative insisted that he knew it was happening and asked her to tell him all about it. She responded that the other girl was her friend. Campbell allegedly went on to explain how sexually attractive he finds her as well.
NewsChannel5 reports that the other girl is likely the second complainant against Campbell.
Campbell also reportedly made repeated comments about how he is "very, very lonely" and wishes "he had someone with whom he could just cuddle."

In another instance, Campbell asked the victim how many men she slept with. After she said zero, Campbell insisted she was lying, then asked how many women she had slept with. He "said he bets girls go crazy over me," the victim wrote in the email. Campbell then apparently offered her cannabis gummies in exchange for being able to see her tattoos and piercings.
"I told him absolutely not, and he begged me for several hugs," she wrote in her email. She grew more and more fearful; Campbell grew more and more brazen, reaching out and grabbing her neck.
"I recoiled and said I felt sick and immediately left. That was the last night I ever spoke with or saw him. I blocked his number after that."
Campbell has repeatedly insisted that the conversations he had with the intern were "consensual adult" ones.
Meanwhile, the legislature is slow to release much further information, including how much taxpayer money was spent covering up the disturbing behavior. NewsChannel5 reports that potentially thousands of dollars have been spent to relocate the victim from the apartment building that she and Campbell both lived in, to ship her furniture back home to another part of Tennessee, and to place her in a hotel for the remainder of her internship.

Again: Tennessee taxpayers have had to foot the bill of protecting a victim from sexual harassment—and from potentially facing further harassment—by a sitting Republican lawmaker.
Before Tennessee Republicans sought to expel three Democrats—and succeeded in expelling the two Black ones, Justin Pearson and Justin Jones—for standing in solidarity with thousands of Tennesseans protesting gun violence, they have long been making up and manipulating the rules in order to avoid public accountability. Such behavior has led them to vote down bills with abandon and introduce last-minute amendments to legislation that the public is seldom aware of. And in so doing, Republicans have established arbitrary standards that brought them to so brazenly expel Pearson and Jones, while ignoring when their own colleagues are sexual harassers, child molesters, or allegedly assaulting others on the House floor.