Trump Comforts Convicted January 6 Rioter Who Called to Execute Members of Congress
"Listen, you just hang in there," the former president told Micki Larson-Olson, before hugging her in front of the cameras.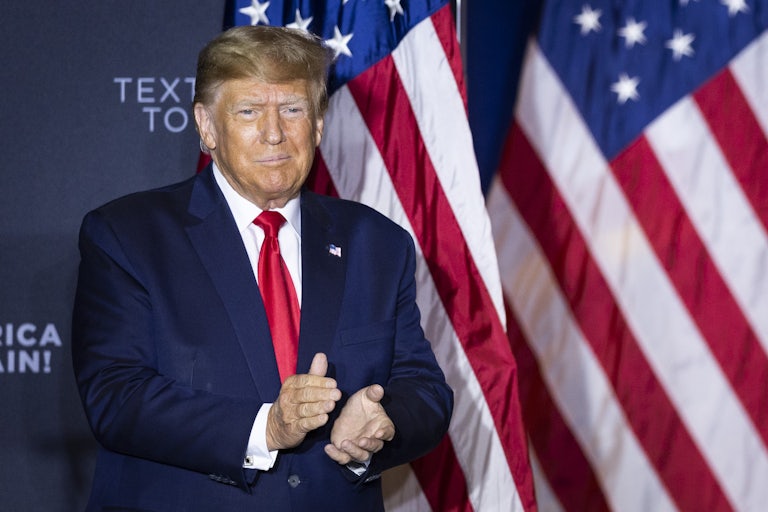 Adam Glanzman/Bloomberg/Getty Images
Micki Larson-Olson was convicted of defying police orders during the January 6 riots that sought to overturn the 2020 election. If she had had it her way, she would've done more. In an interview last year, the Texas woman said that members of Congress should be executed "for being traitors," accusing them of being "domestic terrorists."
And on Thursday, Donald Trump signed her backpack and gave her a warm hug.
"Listen, you just hang in there," the twice-impeached and criminally indicted former president told the convicted rioter. "You guys are gonna be OK."
The shared connection between the two criminals came during a campaign stop for Trump—who is currently on trial for rape—in New Hampshire; Larson-Olson found the former president at a diner after his event, according to The Washington Post.
"President Trump, will you please sign my Trump backpack that I carried up to Jan. 6?" Larson-Olson bellowed as she entered the restaurant. "I went to jail for 161 days for Jan. 6. I'm an Iraq War veteran."
"Patriots, I hear the woman," Trump said in response. "It's terrible," he continued. "What they're saying is so sad, what they've done to Jan. 6."
Trump took a photo with his fellow "patriot," embracing her with a hug, and even gifting her the marker he used to sign the backpack.
"You just take care of yourself," Trump told her. "You've been through too much. You're going to wind up being happy."
Larson-Olson had driven 30 hours from Abilene, Texas, all the way to Manchester, New Hampshire, to see Trump, according to the Post. Immersed in the revelry of his fandom, Trump embraced someone who had said execution "should happen to each and every person that hijacked the voice of the people"—which, in her eyes, would seemingly be any member of Congress who supported certifying the results of the 2020 election.
Since completing her sentence, Larson-Olson has apparently joined Negative48, a QAnon spin-off group that has become a new staying presence at Trump events.
The convicted rioter stands by her actions on that fateful day in January.
"It was the most patriotic day of my life," she told the Post. "I refused to walk down from the stairs … because I took an oath to support and defend the Constitution against all enemies, foreign and domestic, and those politicians are domestic enemies to our republic."
Larson-Olson apparently choked up after Trump had left the diner.
"It's so surreal, I can't believe that," she said. "The fact that the president knows my story … this most amazing man knows what I went through in the jail.… It's just crazy. And he gave me the pen."