Watch Tucker Carlson Admit That His Fox Show Was a Total Scam
Carlson has put out his first public statement since he was fired from Fox News—and it's a doozy.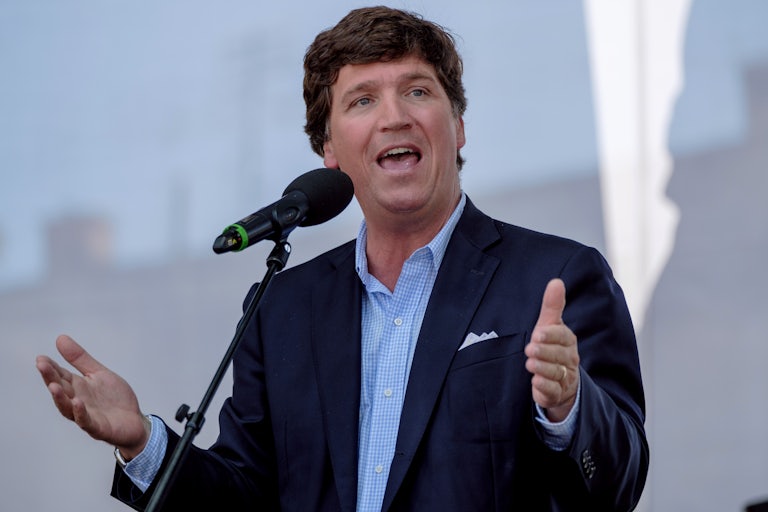 Janos Kummer/Getty Images
Erstwhile television host Tucker Carlson made his first public statement since being fired from Fox News, and he essentially admitted that his show was pointless to begin with.
Carlson was abruptly let go Monday, catching most people off guard. He has been radio silent on social media in the aftermath of his departure from Fox—until now. Carlson posted a video message to Twitter Wednesday evening saying that in his time offline, he has discovered how "unbelievably stupid most of the debates you see on television are."
"They're completely irrelevant. They mean nothing," he said. "Trust me, as someone who's participated."
Carlson was Fox's most popular host, and he made a name for himself by spouting falsehoods, conspiracy theories, and a range of racist, sexist, and homophobic ideologies. Court documents from the Dominion Voting Systems lawsuit showed that he knew the things he said on air weren't true, but he continued to say them anyway.
Carlson also issued what sounded like a warning Wednesday, saying that people who tell the truth prevail. "At the same time, the liars who've been trying to silence them shrink, and they become weaker," said the man who was found by a court to have lied on air. "See you soon."
He did not indicate what he'll do next, but it looks like we haven't seen the end of Carlson yet.