Title 42 Is Ending Today, and Kyrsten Sinema and Thom Tillis Want to Stop It
The senators are aiming to extend the pandemic-era asylum policy to give lawmakers the time to write bipartisan immigration reform legislation.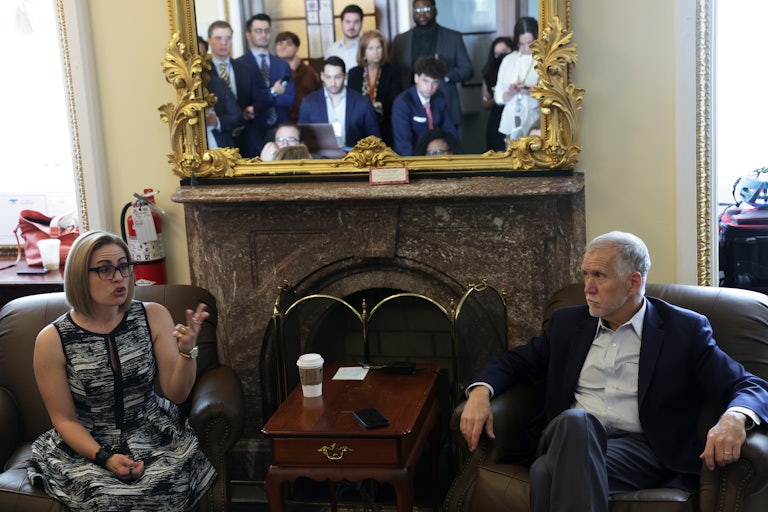 Alex Wong/Getty Images
Senators Kyrsten Sinema and Thom Tillis hold a "pen and pad" session with reporters to discuss the expiration of Title 42.
The pandemic-era public health emergency measure known as Title 42, which allows officials to turn away individuals at the border regardless of whether they are seeking asylum, is set to expire this evening.

Lawmakers of both parties, particularly those representing states that border Mexico, have worried that the lifting of Title 42 will result in more migrants fleeing their countries seeking to enter the United States, causing bottlenecks at ports of entry and straining resources at the border. Republican Senator Thom Tillis and Democrat-turned-independent Senator Kyrsten Sinema introduced legislation last week effectively extending Title 42 for two years, which the two argue will give Congress the time to negotiate broader immigration reform legislation.

"It is our goal to get a bill to the president's desk to actually make some meaningful difference in addressing this crisis, and relieve the pressure on border states like Arizona," Sinema told reporters in a "pen and pad" sitdown—a rare occasion, as Sinema almost never speaks to the press. Sinema also slammed what she saw as the Biden administration's insufficient response to the end of the policy, saying that the White House's "willful failure to prepare for the end of Title 42 means that my state bears the brunt of the crisis that is coming."

The bill is also supported by Democratic Senators Joe Manchin, Sherrod Brown, and Jon Tester, all of whom are up for reelection in 2024 in red states. But multiple attempts to pass immigration reform bills of any significance over the past 15 years have foundered. In 2013, a reform measure that passed on a bipartisan basis was blocked in the House; Congress has only become more polarized, and less amenable to broad bipartisan immigration reform, in the past 10 years. (Sinema did not reply to my question on how the political conditions have changed since 2013, remarking instead that she liked my dress.) Democratic Senator Dick Durbin is also developing his own legislation to address Title 42.

Meanwhile, the House will vote on a sweeping border enforcement bill on Thursday afternoon, which President Joe Biden has vowed to veto—not that it will make it to his desk in the first place, as the measure will be dead on arrival in the Senate.