CNN Insiders Slam Trump Town Hall: "A Disaster, and Totally Predictable"
CNN execs are facing a stream of criticism from their own employees.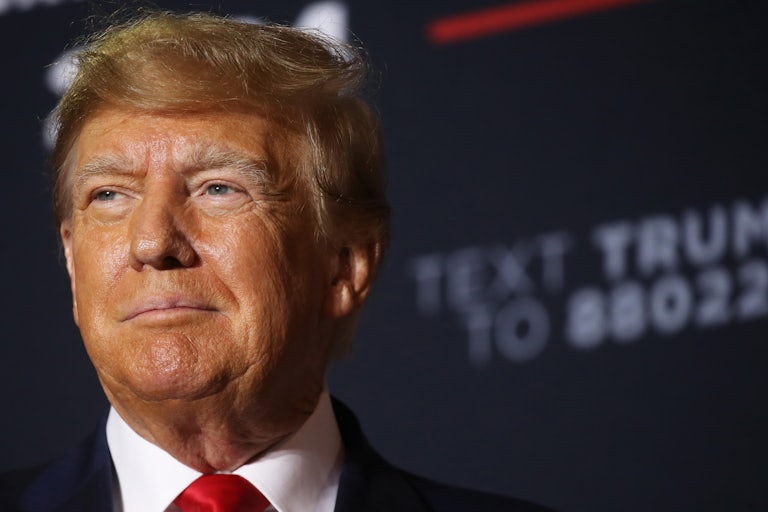 Spencer Platt/Getty Images
On Wednesday, CNN persisted with hosting a town hall event with twice-impeached, criminally indicted former President Donald Trump, just a day after he was found liable for sexual abuse and defamation.
And it went about as poorly as literally anyone could have predicted. Trump probably told more lies than truths. He smeared E. Jean Carroll and got audience members to laugh and jeer along. He doubled down on January 6 and lies about the 2020 election. And CNN left its own Kaitlan Collins with the remarkably tall task of trying to fact-check it all, while leaving her vulnerable to be called "a nasty person" by Trump in front of an audience that seemed to have no concern with him doing so at all.
And Team Trump was loving it. "Advisers to Trump are thrilled at how this is going so far for him," The New York Times' Jonathan Swan reported. "They can't believe he is getting an hour on CNN with an audience that cheers his every line and laughs at his every joke."
Early on during the town hall, one CNN employee told The Washington Post's Jeremy Barr it was "a disaster, and totally predictable."
Another insider told Rolling Stone the evening was "appalling" and that CNN gave Trump "a huge platform to spew his lies," while "the audience was stacked with his voters."
"A fucking disgrace," another CNN insider said. "1,000 percent a mistake [to host Trump]. No one [at CNN] is happy."
"Just brutal," another producer added.
Before the event, CNN commentator and retired Washington, D.C., police officer Michael Fanone (who was assaulted by rioters during the January 6 attack, resulting in a heart attack, severe burns, and brain injuries) openly railed against the network, in a Rolling Stone piece titled, "CNN Is Hosting a Town Hall for a Guy Who Tried to Get Me Killed."
Oliver Darcy, CNN's senior media reporter, wrote a very critical piece overnight on CNN's decision to host the town hall. "It's hard to see how America was served by the spectacle of lies that aired on CNN Wednesday evening," he wrote. "CNN and new network boss Chris Licht are facing a fury of criticism—both internally and externally over the event."
What was already a bad idea was made worse by CNN's tolerance, and therefore affirmation, of a man just found liable for sexual abuse. One could imagine a parallel universe where CNN ideally never hosted Trump at all or at least canceled the event, issuing a strong declaration that the American people are better served with journalism that doesn't offer open prime time to sexual abusers—far less coup inciters.
Instead, the network dug its heels in, leaving Collins to endlessly parry with Trump's lies and the rest of America to become even further immersed into the same consent-manufacturing operation that helped lead to Trump's rise in the first place.
And while many within the walls of CNN appear incensed by what their employer has done, it matters not, unless they make it matter. For their own dignity, and for the dignity of what journalism should aspire toward, these staffers could leave, or strike, or even sabotage the network; make leadership actually feel something other than a stream of reaction articles that only fuel their egotistical presumptions that "if we're making people mad, we're doing something right." Till then, these executives will only further entrench themselves in somehow believing this garbage is good for America. And by then, the opening for the actually good journalists at CNN to make change will be even narrower. The clock is ticking.