Lauren Boebert Admits She Had Her Third Son Because Birth Control Was Too Expensive
Despite her experience, the Colorado congresswoman has made it a point to oppose contraception access.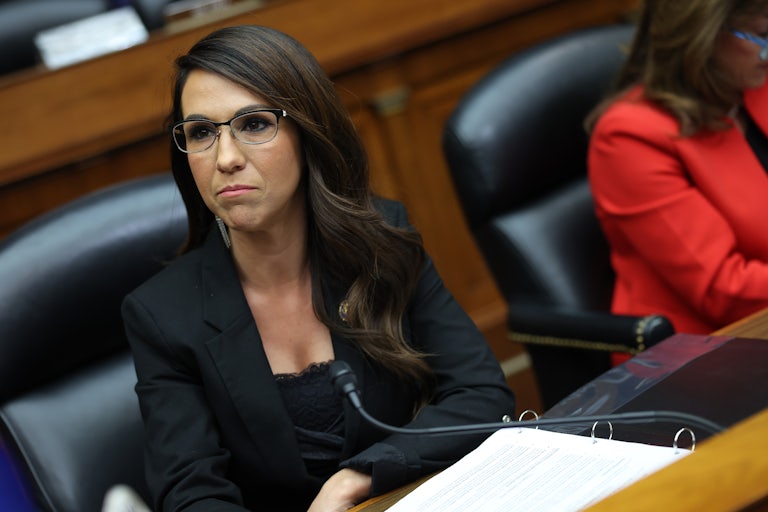 Kevin Dietsch/Getty Images
Representative Lauren Boebert admitted Tuesday that she only had her third son because birth control was too expensive.
But instead of using this life experience to work to make access to contraception easier or more affordable, the Colorado Republican has actively worked to make birth control harder to get.
During a hearing on prescription drug prices Tuesday, Boebert asked a pharmacy owner if he often sees people leave without their prescriptions because they can't afford the medication.
"I left a prescription at a pharmacy once. I went to get birth control," Boebert said, explaining that the price was so high she thought the medicine was for three or even six months. But it turns out she was only getting one month's worth of birth control.
"I said, 'It's cheaper to have a kid.' And I left it there, and now I have my third son," Boebert said.
Boebert then said that not being able to afford her medication "turned out to be a really great thing" because it resulted in her son. But instead of making birth control easier to access for people, Boebert has decided to force everyone into the same predicament she was in.
Boebert has repeatedly moved to make contraception harder to get. Last summer, she voted against the Right to Contraception Act, which would have codified the right to access birth control. In January, she introduced the Defund Planned Parenthood Act, which would have prohibited federal funds from going to Planned Parenthood.
While Boebert said it was because of Planned Parenthood's abortion services, the organization actually provides a wide range of sexual health care, from birth control to screenings for sexually transmitted infections. Cutting federal funding, which makes up a little less than half of Planned Parenthood's budget, would have crippled its services. Boebert has also supported the repeal of the Affordable Care Act, which requires that insurance policies cover birth control.
Boebert took the wrong lesson away from not being able to afford her birth control, and now everyone else is having to suffer for it.