Nebraska Governor Signs Radical Bill Banning Abortion and Gender-Affirming Care
A fun one-two punch of losing bodily autonomy.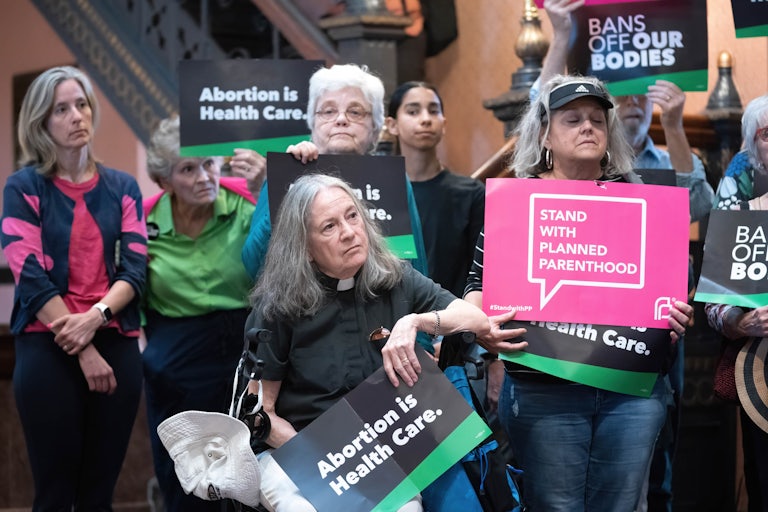 Sean Rayford/SOPA Images/LightRocket via Getty Images
Nebraska Governor Jim Pillen signed a bill Monday banning abortion after 12 weeks and gender-affirming care for minors, a one-two punch of losing human rights.
The bill passed the state legislature last week. The chamber had failed last month to pass a six-week abortion ban after two typically anti-abortion senators voted "present." Republicans then successfully passed the 12-week ban by folding it into an anti-trans bill.
The measure is "the most significant win for the social conservative agenda in over a generation in Nebraska. I think that's something we need to clap and shout about," Pillen said at the signing ceremony.
The measure will ban abortion after 12 weeks. Exceptions would only be made for rape, incest, or to save the pregnant person's life. The bill would also prohibit people under 18 from receiving puberty blockers, hormone therapies, and genital or nongenital surgeries. Genital surgeries are not performed in Nebraska, but Republicans have banned them anyway.
The state's chief medical officer—who is simply an ear, nose, and throat specialist appointed by the Republican governor—would be able to set rules and regulations that would allow gender-affirming medications in certain situations. The bill's supporters say this is a compromise, but critics worry this authority could be used to create a blanket ban instead of more flexibility.
State Democrats, led by Senators Machaela Cavanaugh and Megan Hunt, had tried to block the anti-trans bill by filibustering every single measure that came up during the legislative session. One side effect of the filibuster was blocking the six-week abortion ban. But their efforts were finally defeated.
The ACLU of Nebraska said it was considering legal action to block the law. "The governor's decision to sign these sweeping restrictions into law betrays a total disregard for Nebraskans' freedom, health and well-being," interim executive director Mindy Rush Chipman said in a statement. "Remember that more than 1,000 local medical professionals warned senators that LB 574 would put lives at risk—officials should have listened."
"Every option is on the table to undo these regressive measures, including seeking justice through the courts."