Manhattan D.A. Slams Top Republicans for Acting Like Trump's "Criminal Defense Counsel"
In a fiery letter, Alvin Bragg's office criticized House Republicans for interfering in the investigation leading to Trump's indictment.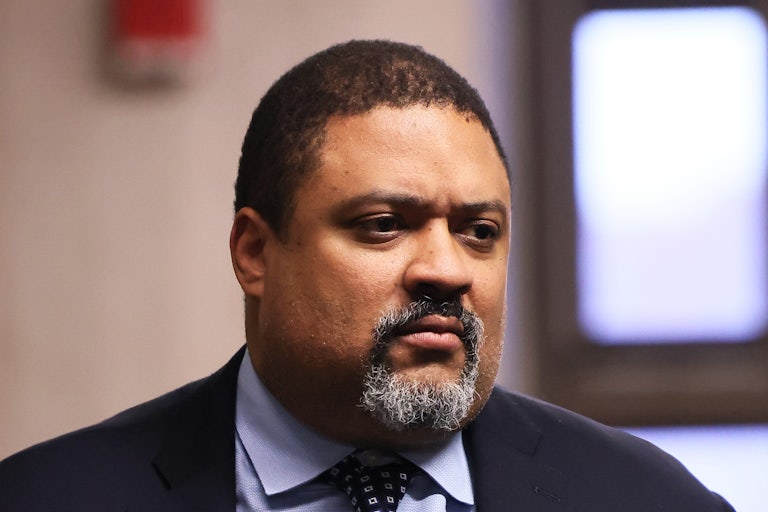 Michael M. Santiago/Getty Images
Manhattan District Attorney Alvin Bragg
Manhattan District Attorney Alvin Bragg hit back Friday at Republican accusations that the indictment of former President Donald Trump was politically motivated, calling the attacks "baseless and inflammatory."
Trump became the first former president ever to be criminally charged Thursday when a Manhattan grand jury voted to indict him for his role in paying hush money to porn star Stormy Daniels.
Representatives Jim Jordan, Bryan Steil, and James Comer—who chair the House Judiciary, Administration, and Oversight committees, respectively—have alleged Bragg has a political agenda and demanded he testify in Congress about the investigation. They then said that by not responding to them, Bragg had proved their point.
"Your first letter made an unprecedented request to the District Attorney for confidential information about the status of the state grand jury investigation—now indictment—of Mr. Trump," Bragg said in a letter to the representatives Friday. "Your second letter asserts that, by failing to provide it, the District Attorney somehow failed to dispute your baseless and inflammatory allegations that our investigation is politically motivated. That conclusion is misleading and meritless."
Bragg informed the congressmen that they did not have the authority "for interfering with individual criminal investigations" and accused them of "acting more like criminal defense counsel trying to gather evidence for a client than a legislative body seeking to achieve a legitimate legislative objective."
He also said that their investigation had no valid purpose and repeatedly reminded them that they were overstepping the bounds—and power—of their roles.
"We urge you to refrain from these inflammatory accusations, withdraw your demand for information, and let the criminal justice process proceed without unlawful political interference," Bragg said.
Republicans rushed to Trump's defense after the indictment was announced, with Fox News host Tucker Carlson even appearing to call for violence in response.
But as Bragg pointed out, "Like any other defendant, Mr. Trump is entitled to challenge these charges in court and avail himself of all processes and protections that New York State's robust criminal procedure affords. What neither Mr. Trump nor Congress may do is interfere with the ordinary course of proceedings in New York State."

Read Bragg's full letter here.