Chris Christie Launches 2024 Run in Bridge to Nowhere
The former New Jersey governor seems to think he can be president.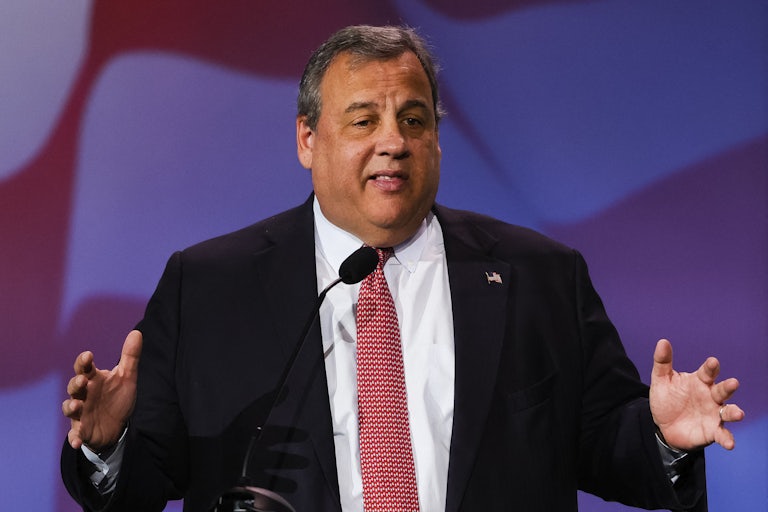 WADE VANDERVORT/AFP/Getty Images
Former New Jersey Governor Chris Christie on Tuesday formally filed paperwork for his presidential run, hoping that he can bridge the gaping political divide in the United States.
Unfortunately, we've been here before, and it's unlikely that Americans are going to want to go any further down this bridge to nowhere.
Christie ran for president in 2016 but flamed out spectacularly in the New Hampshire primary. He had taken multiple attacks from Donald Trump up until that point, but apparently it was all water under the bridge, as Christie threw whatever clout he had behind Trump.
Christie worked fairly closely with Trump throughout his presidency and on his failed 2020 reelection campaign. He finally broke with Trump when the former president refused to accept the election results, which was apparently a bridge too far. Christie has since been vocal in opposing Trump and may make that criticism a central tenet of his campaign, though it remains to be seen.

During his two terms as New Jersey governor, Christie seemed to take nothing but political beatings. The trouble began in 2012, when fellow Republicans accused him of getting too close to then-President Barack Obama during the aftermath of Hurricane Sandy.

The following year, two of the three lanes of the George Washington Bridge connecting New York and New Jersey were shut down for several days. Christie was accused of ordering the lane closure, which came to be known as Bridgegate, to create traffic jams and punish a local Democratic mayor who didn't support him.
All of these scandals took a real toll on Christie's popularity. By 2016, he had the lowest approval rating of any Garden State governor in 20 years. That wasn't helped when, the following year, New Jersey suffered a government shutdown. State parks and beaches were closed as a result of the shutdown, but Christie took his family to the beach for July 4, an outing that came to be known as Beachgate.
And of course, there is Christie's bizarre and unrequited fanboy love for Bruce Springsteen, who called out Christie for his financial policies and for Bridgegate, and reportedly said Christie was not allowed to use any Springsteen songs on his campaigns.

Christie is, to his credit, one of the few Republican lawmakers actually willing to call Trump out for his actions. But it's unclear whether Christie actually has enough political pull to do some damage during the race. You could say let's cross that bridge when we get there, but a Monmouth University poll published at the end of May found that only 21 percent of voters have a favorable view of him, while 47 percent view him negatively.