GOP "FBI Politicization" Hearing Features Witnesses Paid by Trump Adviser
Surprise, surprise, Republicans' big investigation into the FBI is a sham.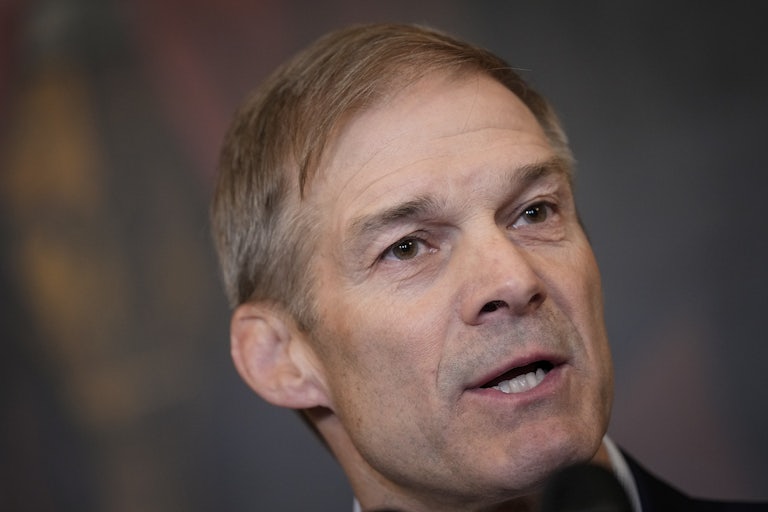 Drew Angerer/Getty Images
Jim Jordan
Representative Jim Jordan admitted Thursday that two FBI whistleblowers testifying in front of the House Judiciary Committee were paid by one of Donald Trump's advisers.
The Judiciary Committee held a hearing Thursday on the alleged "weaponization" of the federal government. Republicans have charged that the FBI has unfairly targeted conservatives, pointing to things like the Trump-Russia investigation.
During the hearing, Democratic Representative Dan Goldman got two FBI whistleblowers to admit that they had been paid by Kash Patel, a former member of the Trump administration and a current Trump adviser.
When asked whether he thought that was appropriate, given this is allegedly a hearing on politicization, committee Chair Jordan implied that it was, shouting, "They got a family! How are they supposed to feed their family?"
One of those paid witnesses also refused to participate in the January 6 investigation, while another former FBI agent directly interfered in said investigation.
Republicans have launched multiple wild-goose chases of investigations since taking control of the House, wasting everyone's time as the United States draws closer to defaulting on its debt. House Oversight Committee Chair James Comer recently admitted that not only does he have no concrete proof of wrongdoing by President Joe Biden, but he also lost track of one of his main informants.
Democrats also called out Republicans for not following standard protocols regarding the whistleblowers. Judiciary ranking member Stacey Plaskett said Jordan had violated committee rules by not sharing the whistleblowers' testimony ahead of the hearing, but Jordan brushed her off.
Plaskett slammed Republicans for giving Democrats next to no information and pushing conspiracy theories. "My colleagues on the far right are on a mission to attack, discredit, and ultimately dismantle the FBI," she said. "This is 'defund the police' on steroids."