Paul Gosar's Staffer Is Reportedly a Follower of Neo-Nazi Nick Fuentes
A new report reveals the close ties between the far-right Arizona representative's digital director and white supremacist leader Nick Fuentes.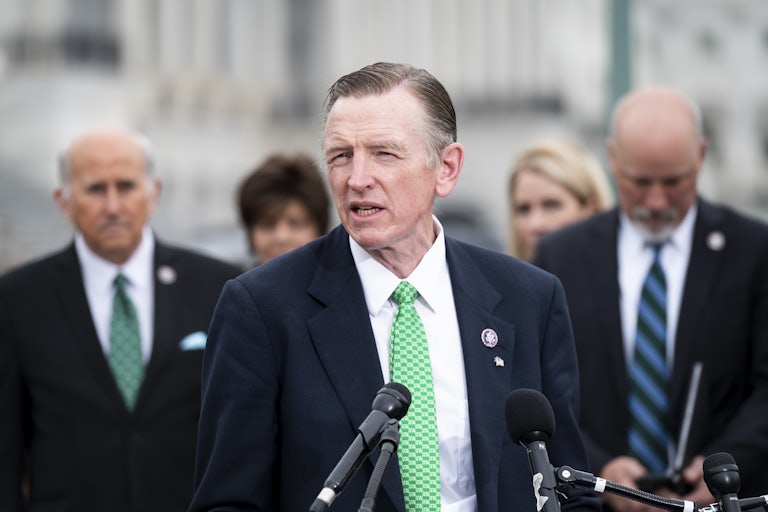 Bill Clark/CQ-Roll Call, Inc/Getty Images
Arizona's far-right Representative Paul Gosar
With how drastically extreme the conservative movement has become, it is sometimes easy to forget how radical the Republican Party truly is, and what kinds of vicious ideologies it is welcoming. Talking Points Memo has revealed the extent this has come to: Far-right Republican Representative Paul Gosar's office has been infiltrated, or perhaps in his eyes enhanced by, a devotee of a prominent neo-Nazi.
Gosar's digital director since 2021, Wade Searle, is a follower of white supremacist leader Nick Fuentes, according to TPM.
Fuentes leads what is known as the "Groyper Army," a loosely organized far-right group dedicated toward white nationalism and hate. TPM has found Searle, a loyal Gosar staffer, to be a strong subscriber to Fuentes and his white supremacist movement.

Searle denies the allegations. TPM says it stands by its reporting.
On Fuentes's America First streaming show, for instance, Searle was a fervent listener and even moderator of the chat room, says the TPM report.
"You are our voice!" Searle allegedly boasted to Fuentes during an online stream. Searle paid $150 to plaster the note onto Fuentes's screen during his stream—after joining hordes of other viewers in pledging their fealty to Fuentes and his movement.
Here's how Fuentes directed Searle and other viewers through the pledge:

Raise your right hand. "I swear my undying allegiance to Nicholas J. Fuentes and the America First movement, so help me God." Raise your hand. Hold it high. "I swear I will defend the white race, my nation America, and my savior Jesus Christ, and my loyalty to the America First movement, Nicholas J. Fuentes, so help me God."
Such a crazed pledge is concerning, given the gravity of such a movement and what it stands for.
"The Groypers are essentially the equivalent of neo-Nazis," Nicole Hemmer, a historian and expert on the far right, told TPM. "They are attached to violent events like Jan. 6. Nick Fuentes, as sort of the organizer of the Groypers, expresses Holocaust denialism, white supremacy, white nationalism, pretty strong anti-women bigotry, he calls for a kind of return to Twelfth Century Catholicism. They're an extremist group that is OK with violence."
And this is the type of ideology that Searle allegedly embraces: the type of ideology Gosar has always flirted with and now spends taxpayer dollars to employ.
"A kind of even sub rosa identification of Groypers as congressional aides is the same as having Holocaust deniers, or alt righters, or, you know, Aryan Nations people," Hemmer continued. "It's as extreme and as racist as you get in the United States."
Tellingly, the far-right staffer started the very day after Gosar was removed from House committees for posting a video depicting him cutting Representative Alexandria Ocasio-Cortez with a sword. A censure like that is generally meant to rein someone in, but Gosar dug his heels in further, hiring Searle, who bows down to a man who has proudly said he's "just like Hitler."
But the story here is not just about Gosar hiring someone with close ties to a major neo-Nazi; it's also about how he himself has had such ties, too. Gosar has appeared at Fuentes's two most recent "America First" conferences—in person in 2021, virtually in 2022. In July 2021, Gosar used congressional letterhead to write directly to the FBI and complain about Fuentes's inclusion on the no-fly list. Gosar has referred to Fuentes as "Nick," in formal statements before—not something a member of Congress would do if they lacked familiarity or connection.
If there is to be any scarlet letter in politics, it ought to be for Nazis. Instead, Gosar has snuggled up warmly toward that exact movement.
This article has been updated.