Louisiana Republicans Cruelly Reject Rape, Incest Exceptions to Abortion Ban
House Republicans heard directly from survivors—and then ignored them.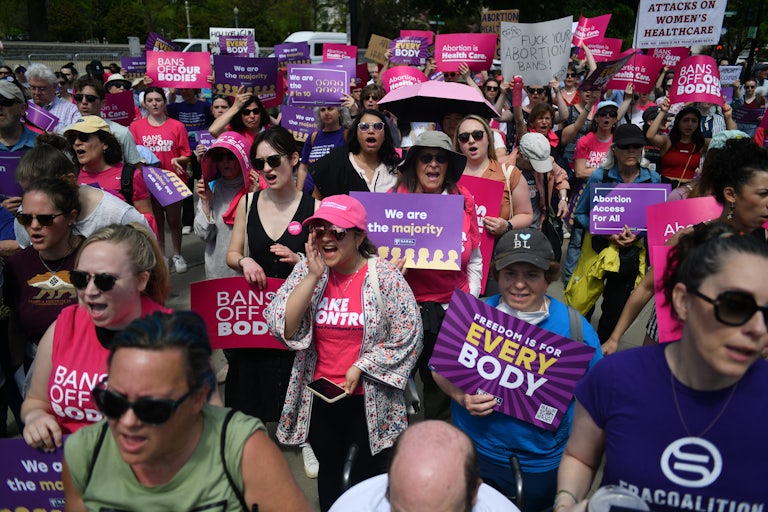 Astrid Riecken/The Washington Post/Getty Images
Louisiana House Republicans rejected multiple bills aimed at making abortion marginally easier to access, an unbelievably cruel move that denies exceptions even for child victims of sexual abuse.
Abortion has been banned in Louisiana since Roe v. Wade was overturned, with exceptions only to save the pregnant person's life or if the fetus is not expected to survive. However, two doctors must agree that the fetus is nonviable, adding a significant burden to the patient.
The House Criminal Justice Committee heard a package of abortion bills on Wednesday intended to barely ease restrictions on the procedure. One bill would have exempted all rape and incest victims from the abortion ban, but it failed in a 10–5 vote, with Republicans voting against the measure and Democrats and the one independent voting for it. Another would have specifically allowed child victims of rape and incest to get abortions. The bill was voted down, again along party lines.
Following those two votes, lawmakers deferred the other bills. One would have only fined doctors for performing an abortion, instead of sentencing them to jail time. It also would have allowed only one doctor to determine that a pregnancy was medically futile, instead of requiring two opinions. The bill's sponsor deferred the measure so she could write amendments to it that might garner more support from committee Republicans.
Doctors and abortion rights advocates who testified in the committee hearing warned that the bill would have huge negative consequences for all residents of Louisiana, particularly children. They beseeched the committee to think about what would happen if one of their own female relatives were raped.
"By forcing survivors to give birth, you are forcing them to forever be connected to their rapist," said sexual assault survivors' advocate Morgan Lamandre. "In Louisiana, men are allowed to choose the mother of their children regardless of what the mother wants."
Democratic Representative Cedric Glover, who sponsored the bill to create exceptions for child victims, pointed out that "if the roles were reversed in regards to which of the sexes have the burden of bearing children, this would be an issue that men would look at differently."
"This issue is about choices," he said. The bill's opponents "spoke of women who regretted having availed themselves of a choice to an abortion after being raped. That was still a choice available to them."
Although most Louisiana residents support abortion access, the majority of state legislators—both Republicans and Democrats, including Governor John Bel Edwards—oppose it. But Edwards and other members of his party had hoped to ease the state's draconian restrictions a bit.
"I love Louisiana," one woman testified during the hearing, after detailing how she survived a decade of sexual abuse at the hands of her grandparents. "For the future survivors that love Louisiana, it's time Louisiana loved us back."