Hot Indictment Summer: Georgia D.A. Tells Law Enforcement to Get Ready
It's not looking great for Donald Trump and his supporters.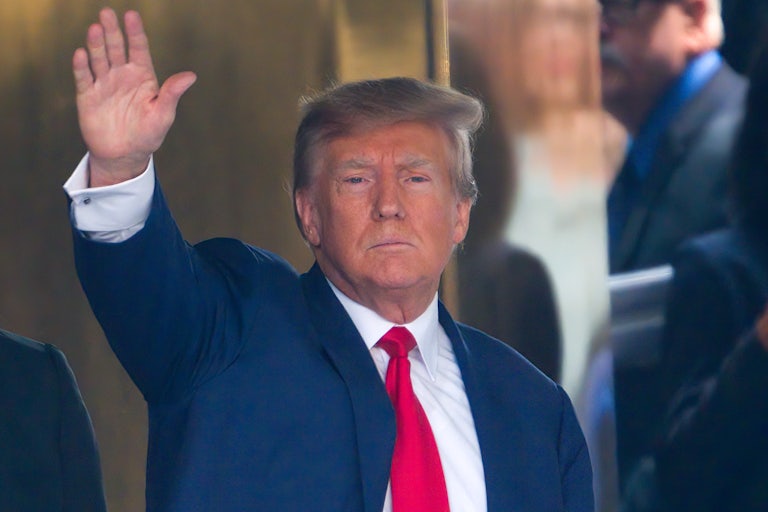 James Devaney/GC Images
Donald Trump and his friends can look forward to a Hot Seat Summer, after Fulton County District Attorney Fani Willis revealed Monday that she plans to announce possible criminal indictments this summer.
Trump is under investigation in Georgia for his actions following the 2020 presidential election. A leaked phone call revealed he had pressured the Georgia secretary of state to "find" the exact number of votes needed to flip the state in his favor.
Willis sent a letter to local law enforcement Monday asking them to be ready for "heightened security and preparedness" during the summer, The Atlanta Journal-Constitution reported. She plans to announce "charging decisions resulting from the investigation my office has been conducting into possible criminal interference in the administration of Georgia's 2020 General Election" between July 11 and September 1.
"We have seen in recent years that some may go outside of public expressions of opinion that are protected by the First Amendment to engage in acts of violence that will endanger the safety of those we are sworn to protect," Willis said in the letter. "As leaders, it is incumbent upon us to prepare."
While she never mentions Trump or any of his allies by name, it is clear that she has her sights set on the former president and his inner circle.

Norm Eisen, a senior fellow in governance studies at the Brookings Institution, told the Journal-Constitution that there is a "substantial likelihood that Donald Trump and his princip[al] co-conspirators will be included" when Willis announces the charges.
One major hint is Willis's request for increased security. New York City police stepped up their presence around the Manhattan district court where Trump was arraigned earlier this month. Trump has previously called for protests around his indictment, although only a handful of people showed up to support him in New York.
Trump is already facing 34 counts of business fraud in New York for his alleged role in hush-money payments to porn star Stormy Daniels. He is also under investigation for his role in the January 6 insurrection and for his alleged mishandling of classified documents at his Mar-a-Lago estate. He will go on trial Tuesday for allegedly defaming writer E. Jean Carroll, who has also accused Trump of raping her.