Ron DeSantis Is Going After the Railroads—Well, the Disney Monorail …
A carefully worded bill backs the Florida governor's petty fight with Disney.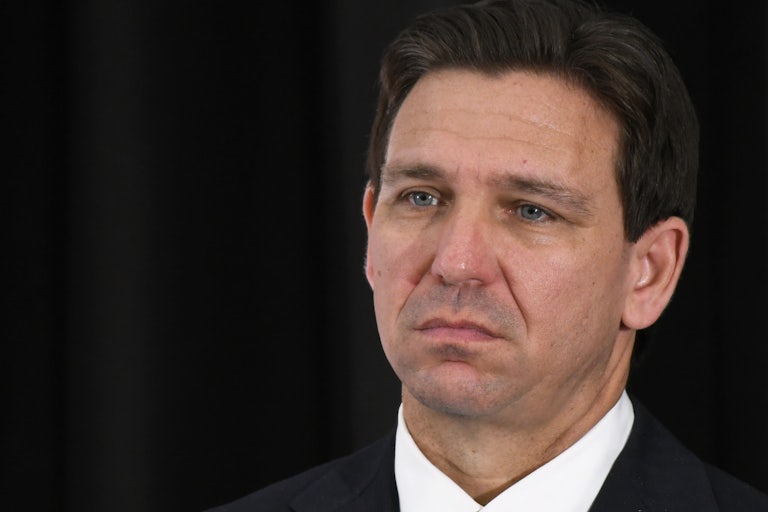 Paul Hennessy/SOPA Images/LightRocket/Getty Images
Florida Republicans have passed a transportation-related bill with one key provision: subjecting Disney World's monorail system to state inspections.
The amendment does not mention Disney by name, but the carefully worded language applies specifically to it.
The bill, which passed the House on Wednesday evening, calls for state oversight of "any governmentally or privately owned fixed-guideway transportation systems operating in this state which are located within an independent special district created by a local act which have boundaries within two contiguous counties." Disney World is located within such a special district that stretches across two contiguous counties.
DeSantis certainly could have called for universal regulatory standards over rail companies. But the bill's specificity in targeting the exact makeup of Disney's monorail system tells you how concerned the Florida governor is with actually holding the private sector accountable.
The move comes, of course, while DeSantis has launched an all-out assault on Disney, not in response to any accusation of greed or environmental degradation or the like, but out of retaliation against Disney's opposition to DeSantis's notoriously unpopular "Don't Say Gay" bill. Since then, Disney has become catch-all target practice for the Florida governor's routines against "wokeness."
A parallel bill, Senate Bill 1604, would cancel a long-standing development agreement that has allowed Disney to largely govern the land it holds. Both bills now await DeSantis's signature. In the meantime, Disney has filed a lawsuit against DeSantis and his allies on the grounds that such retaliatory attacks from the governor on the company amount to a First Amendment violation.
The targeted regulation comes alongside DeSantis suggesting a new regulatory regime specifically over Disney World rides—but not those of any of its competitors, like Universal Orlando or SeaWorld—again reiterating the governor's sole focus not on actual corporate accountability or public safety but on fulfilling his dumb pledge to "never back down from a fight" (perhaps because he can't really fulfill that pledge in the upcoming Republican primary, or even when he's talking to the media).