Who Wants to Crown Ron DeSantis?
PLUS: debt ceiling fatigue and Chris Christie chronicles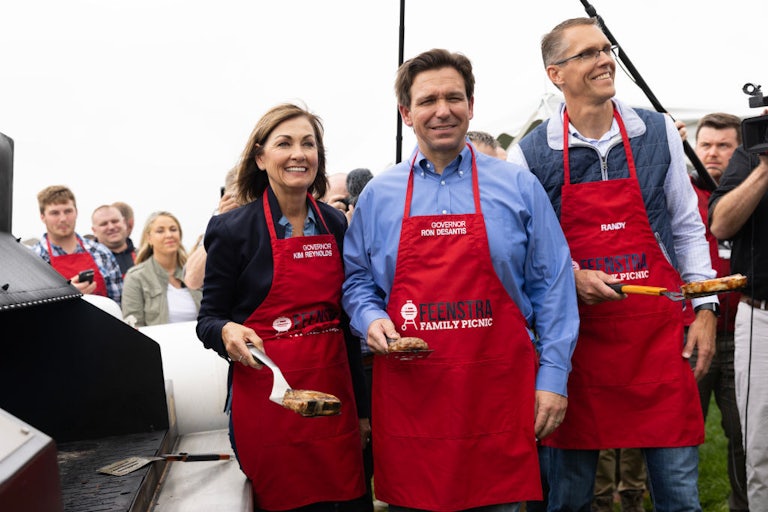 Rebecca S. Gratz for The Washington Post/Getty Images
Iowa Governor Kim Reynolds, Florida Governor Ron DeSantis, and Congressman Randy Feenstra flip meat on the grill for a photo op during the annual Feenstra Family Picnic.
The top: Kingmakers
There was a time when presidential candidates went out of their way to shamelessly woo local elected officials—especially in certain states like New Hampshire. This was the only time in most of these low-level lawmakers' careers when senators, governors, Cabinet secretaries, and kooky business people treated them like kings. Remember when then–New Jersey Governor Chris Christie was frantically texting New Hampshire sheriffs and state senators as he tried to keep his doomed 2016 presidential campaign alive? (But hey, there's always 2024!) Or how about when Senators Ted Cruz and Rand Paul were feuding over the endorsement of the most backbenchy of backbenchers in the Nevada legislature? The practice goes a long way back. We're talking before 2012 and well beyond even the days when a former state party chair in South Carolina endorsing then-Senator Barack Obama was big news.
As with so much in American politics, though, Donald Trump's 2016 victory turned the practice of endorsements on its head. Suddenly, local lawmakers' disgust at a presidential candidate didn't spell certain doom. After Trump won, his endorsement and that of his lieutenants (briefly) mattered more than the old nods. But even in these relatively early days of the 2024 presidential race, Republican candidates are trying to use lesser-known lawmakers as launching pads for top-tier status.
In Iowa, for instance, Florida Governor Ron DeSantis was more than happy to be Representative Randy Feenstra's guest at the annual Feenstra Family Picnic. Senator Tim Scott and his team got especially creative, handing out roses to all the women at a New Hampshire Republican Women's event.
But more important this time around will be endorsements from leaders of ideological blocs of the Republican Party—like the FAMiLY LEADER's Bob Van Der Plaats and Club for Growth's president, David McIntosh. About a year ago, Jonathan Swan and Lachlan Markay at Axios laid out the groups that matter for Republicans: Trump, his family and aides, Club for Growth, and the Susan B. Anthony List, among others
"Lots of folks" claim to be kingmakers in their ideological blocs, Doug Gross, the former chief of staff to then–Iowa Governor Terry Branstad, told The Run-Up by email, citing Bob Van Der Plaats with evangelicals as an example. "But with so many claiming so few, suspect it will be [whoever] can rally the Never Trump moderates behind one candidate."
So while candidates can give out as many roses as they like, in the end what will probably matter the most is which candidate gets David McIntosh.
Who cares about the debt ceiling?
In last week's newsletter, we wrote about who the American people would blame if the United States defaulted on its debts, throwing the national and global economies into chaos. This week, we seek the answer to another question: Is the public actually paying attention to the debt ceiling crisis to begin with?

"No," Democratic Senator Brian Schatz told The Run-Up, when posed that very question. "I think they would have paid very close attention had we got to the deadline, but it just sounded like a normal political fight. Which it was not."

Therein lies the rub: Congress is generally so dysfunctional, and so prone to last-minute showdowns, that this battle seems par for the course in a deeply polarized body. The debt ceiling is also a rather obscure topic to grasp, with many conflating it with the separate issue of funding the government.
"Americans just want us to figure it out and work together," Democratic Representative Scott Peters said. He added that he believes people are "turned off by the us-versus-them" and are more interested in following the NBA Finals than yet another congressional showdown. "People don't connect the importance of what we do with their daily lives. I can see why people check out," Peters continued.
The lack of attention and understanding may actually contribute to our ongoing cycle of periodic debt ceiling showdowns. If Americans see this as just another fight, they won't punish their representatives and senators for flirting with default.

When asked if he believed the public was paying attention to the fight over the debt ceiling, Republican Senator Kevin Cramer joked: "What? You mean it could be just us?" Nevertheless, he expressed hope that the debt ceiling fight, and the deal to resolve it, could highlight the potential for bipartisan action in Congress.

"​​I think they might look at it and go, 'Look at that, they might actually do it. They might have actually found a common ground and compromise,'" Cramer said. "Maybe it restores their hope. I hope that's the outcome."
Trivia, tips, and pet pics
We want to hear from you! Which Republican presidential candidate will conquer Iowa? Can Kevin McCarthy stay speaker for much longer? If so, what's your over/under on how long he lasts? What did you think of the Succession finale? Are you also shocked and horrified that we're almost halfway through 2023?
Or do you want to enter our weekly dog and cat photo contest (winner at the bottom)? Email us: dstrauss@tnr.com and gsegers@tnr.com. (We've already started getting some new comments since we started putting the newsletter on the website—keep 'em coming!)
Document of the week
This week's document is the filing for the new pro–Chris Christie super PAC. It emerged a few days ago, just a little ahead of Christie's expected announcement of a second go at the presidency (he crashed and burned in 2016). And in true Christie fashion, the super PAC is called Tell It Like It Is.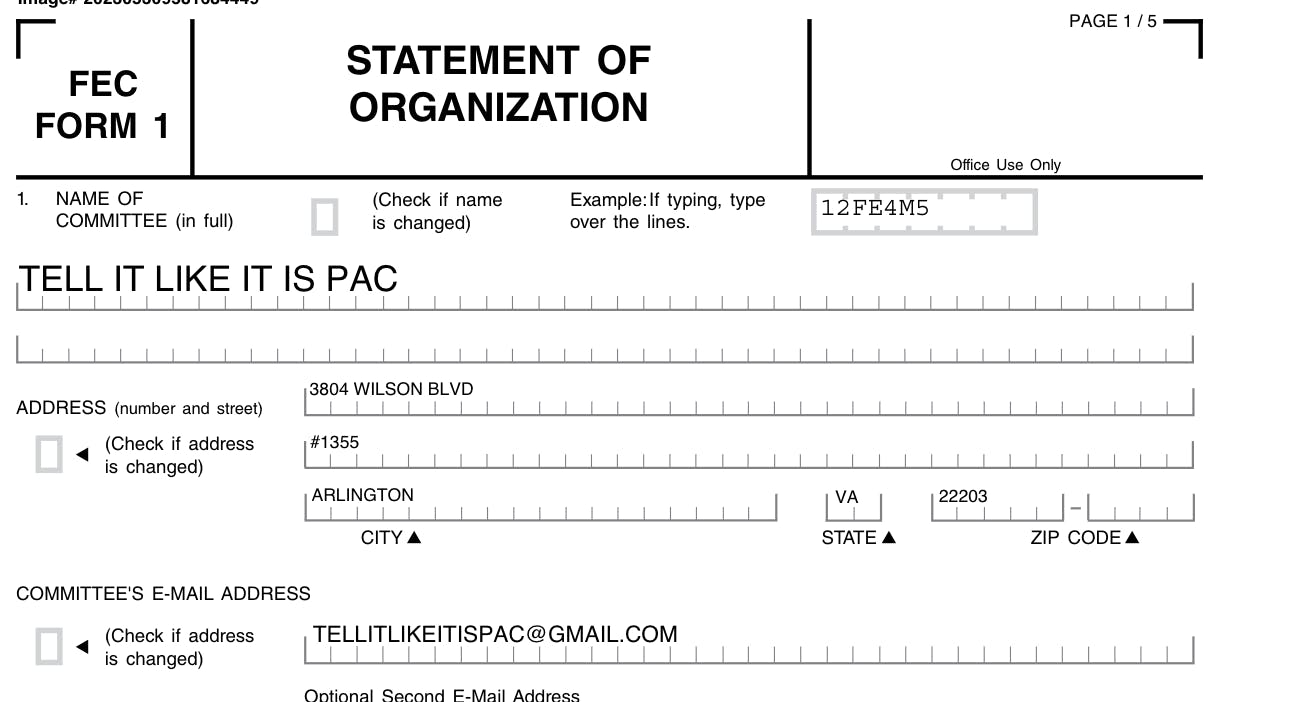 The pop culture segment
In April, Semafor reporter and friend of the newsletter Kadia Goba profiled Representative Jamaal Bowman, a sophomore Democrat who has quickly become one of the strongest progressive voices in the House. It's a great interview, but Grace was particularly struck by an analogy Bowman made comparing himself and House Minority Leader Hakeem Jeffries to famous rappers.
"Hakeem is more like Jay-Z and I guess I'm more like Busta Rhymes," Bowman told Kadia. Interest piqued, TRU asked Bowman which rappers he would liken to the other Democratic leaders, Minority Whip Katherine Clark and Democratic Caucus Chair Pete Aguilar. After a few weeks of consideration, we have his answers.
"I've talked to people about it. So, Katherine Clark is Queen Latifah, and Pete Aguilar is B-Real from [rap group] Cypress Hill," Bowman said. However, he continued, he hasn't yet decided how he would characterize Democratic Policy Committee Chair Joe Neguse and Caucus Vice Chair Ted Lieu. Stay tuned, loyal readers, for further updates.
News and views
Local flavor
Massachusetts has passed just 10 laws this year, the fewest to open a legislative session in decades. It's a sign of the times, by Matt Stout in The Boston Globe
Rep. Chris Stewart plans to resign from Congress, by Bryan Schott in The Salt Lake Tribune
'Numbers nobody has ever seen': How the GOP lost Wisconsin, by David Siders in Politico Magazine: "Even Republicans here are acknowledging that the state has now shifted leftward, and abortion has a lot to do with that. The end of Roe v. Wade last year effectively reinstated Wisconsin's 19th-century abortion ban, which is already being challenged—and those challenges will likely be decided by the state Supreme Court."
Chris Christie gets a super PAC ahead of his likely 2024 bid, by Maggie Haberman in The New York Times: "The former governor of New Jersey, who has been at times both a confidant and a rival of Donald Trump, will have some outside help in his effort to win the Republican primary."
Want to stare into the Republican soul in 2023? by Alex Sammon in Slate: "At a party filled with booze and grievance, some of the party's richest patrons looked to the future. Not everyone liked what they saw."
Got a long read you'd like us to include? Shoot us an email when it publishes, and we'd be happy to share it in next week's newsletter.
WandaVision
This week's pet of the week is Wanda, whose humans are John Mercurio of the Motion Picture Association and David Gray. Wanda loves tennis balls, playing fetch, and long hikes (but not getting caught in the rain). You can win her over with a little peanut butter and some nice pets.