No One Watched Nikki Haley's CNN Town Hall
The ratings are in, and they're embarrassing for someone who says she's a strong contender to Trump.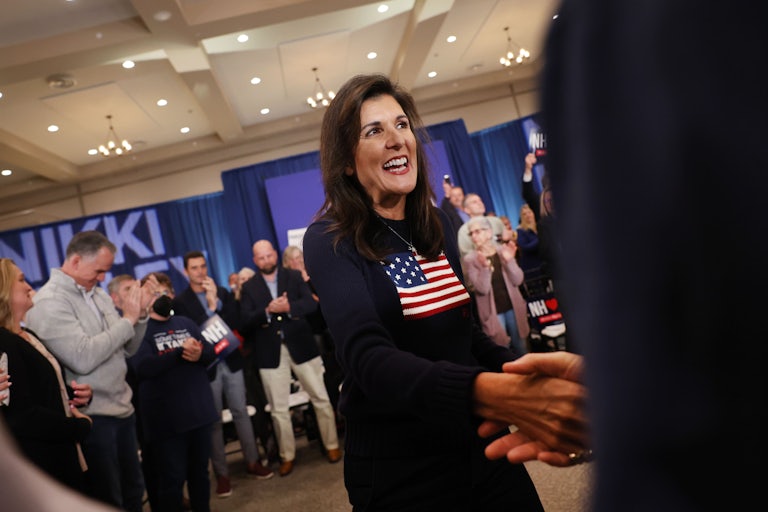 Spencer Platt/Getty Images
CNN continues to let Republicans come on the air and push extreme views and falsehoods. And people continue not to watch.
The network hosted presidential hopeful Nikki Haley for a town hall on Sunday. During the 90-minute event, she advocated for the use of "bulletproof tape" to tackle gun violence, said women who get abortions shouldn't be executed, and called transgender girls playing girls' sports "the women's issue of our time."
But no one was interested in what she had to say. Just 562,000 people tuned in to watch Haley. In comparison, when CNN had a town hall with Donald Trump—whom Haley says Americans are tired of—nearly six times as many people watched, for a total of 3.3 million viewers.
And that audience size pales in comparison to what Trump could bring in at his peak. Almost 71.5 million people watched him win the 2016 election. In 2020, an average of 21.6 million viewers watched the Republican National Convention—far fewer than the previous election, but still miles away from his CNN event.
It's an embarrassingly low number for Haley, who is trying to position herself as a new direction for the Republican Party, away from Trump. But it would seem that people are still more interested in him than they are in her.
Of course, neither of them could beat the viewership record at CNN. The network hosted a town hall with President Joe Biden in 2020, which brought in 3.47 million viewers—the most for a single-candidate town hall to date.