GOP Senator Admits Republicans Don't Care if Accusations Against Joe Biden Are "Accurate"
Republicans have totally lost the plot with their investigation into Joe Biden.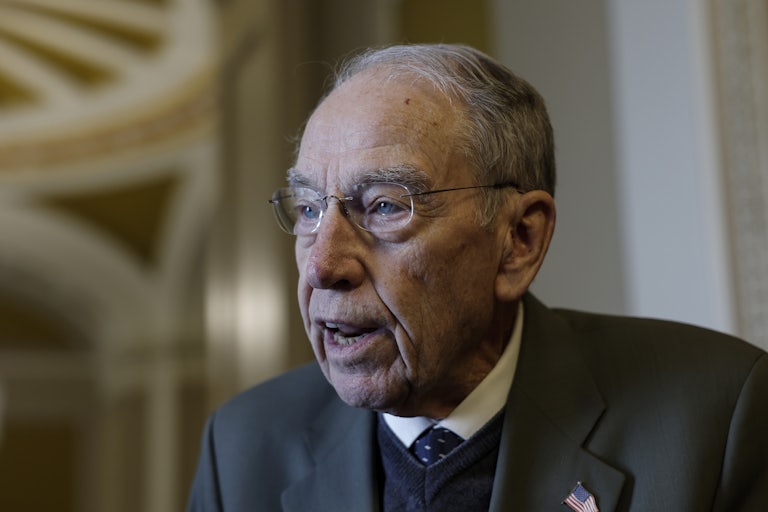 Anna Moneymaker/Getty Images
Senator Chuck Grassley
Another Republican accidentally admitted Thursday that the party's investigation into Joe Biden is not actually about turning up the truth.
House Republicans have been investigating the president and his family for months but have been unable to provide any actual evidence linking Biden to any wrongdoing. House Oversight Committee Chair James Comer demanded last week that the FBI hand over a document he claims will prove some of these allegations, and threatened FBI Director Christopher Wray with contempt of Congress if he doesn't provide the document.
But it seems the actual evidence doesn't matter all that much. Speaking on Fox News Thursday morning, Senator Chuck Grassley said that Republicans are only interested in making sure the FBI complies with the investigation. "We aren't interested in whether or not the accusations against Vice President Biden are accurate or not," he said.
When pressed, Grassley admitted he didn't know whether the document would actually prove any of the accusations against Biden. Fox News host Bill Hemmer incredulously asked whether he had read the document.
"Let's put it this way, there's accusations in it," Grassley said. "It's not for me to make a judgment about whether these accusations are accurate or not. It's up to my job to make sure the FBI's doing their job."
Comer has accused the Bidens of influence peddling in Romania, and Hunter Biden of having business deals in China. He keeps insisting that he will soon have proof, but it's gotten to the point that even some Fox News hosts are growing weary of the constant posturing.
Comer also seemed to imply last week that one major goal of their investigation has been to tank Biden's popularity in the 2024 presidential election polls. Between his and Grassley's comments, it would seem that Republicans aren't interested in exposing wrongdoing after all.