Atlanta City Council Approves $67 Million for Cop City, Dismissing Mass Opposition
The funding approval for the gargantuan police facility comes after police killed a Cop City protester and arrested others en masse.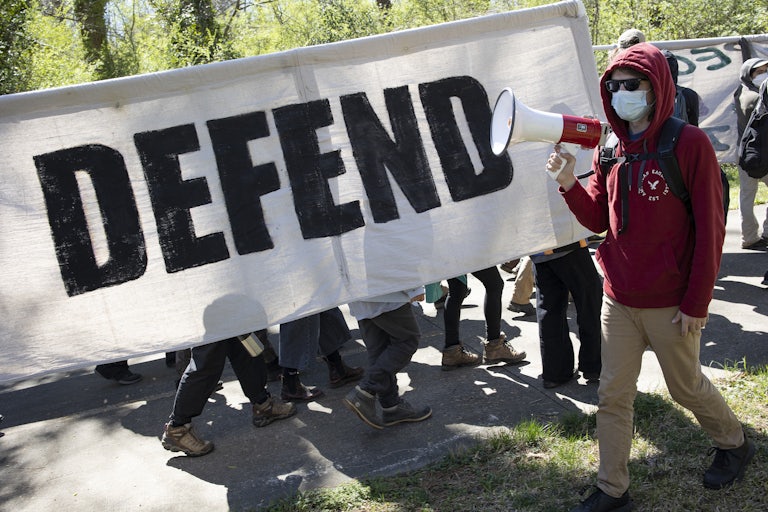 Andrew Lichtenstein/Corbis/Getty Images
Environmental activists march through a preserved Atlanta forest that is scheduled to be developed as a police training center, on March 4.
More than 15 hours of public comment and protesting. More than 230 comments against Cop City, just four in favor of it. And still, at 5:30 a.m. on Tuesday morning, the Atlanta City Council voted 11–4 to approve $67 million in taxpayer money to raze down forest land and build a gargantuan police facility for a force that has killed a protester in cold blood and arrested dozens more on the grounds of having muddy shoes.
Police accountability: the unicorn of American society.
Only four city councilmembers, Liliana Bakhtiari, Jason Dozier, Keisha Waites, and Antonio Lewis, had the stones to heed the will of thousands of their constituents and vote against the funding.

The vote approved $31 million in public funds for construction, while green-lighting a provision that requires the city to pay $36 million over a 30-year period ($1.2 million per year) for the facility. The vote came after nearly 16 hours of hundreds of residents insisting the city reject the project's bloated funding package. Chants of "Stop Cop City!" and "Vive vive Tortuguita!" rang off the walls of Atlanta City Hall.


The latter chant was in reference to Manuel Esteban Paez Terán, known as Tortuguita, who was shot and killed by Atlanta police in January. Contrary to the police's claims that the officers only shot after being shot at first, an independent autopsy found Tortuguita's hands were raised during the shooting. Even worse, police shot Tortuguita at least 57 times.
Fifty-seven times.
Then in March, dozens of people were indiscriminately arrested at a music festival organized by protesters, many of them charged with domestic terrorism. The protesters were detained on accusations of participating in vandalism and arson at a construction site that was over a mile away from where the music festival was being held. Many were arrested and denied bond on the grounds of having muddy shoes (they were all in a forest, where it had rained), or being "part of the team" because they were wearing black.
And last week, Atlanta police used a heavy-duty police truck and hordes of riot police to arrest just three individuals who had been helping organize bail funds and legal support for protesters. The trio were arrested on charges of "money laundering" and "charity fraud," though there has been no public evidence of any mishandling of funds raised to support arrested protesters.
While granting bond for the organizers, the judge did not appear compelled by the prosecution. "I don't find it very impressive," he said. "There's not a lot of meat on the bones."