Why Is Tim Scott Even Running?
The South Carolina Republican wants to lead a party that has no concern for people who look like him.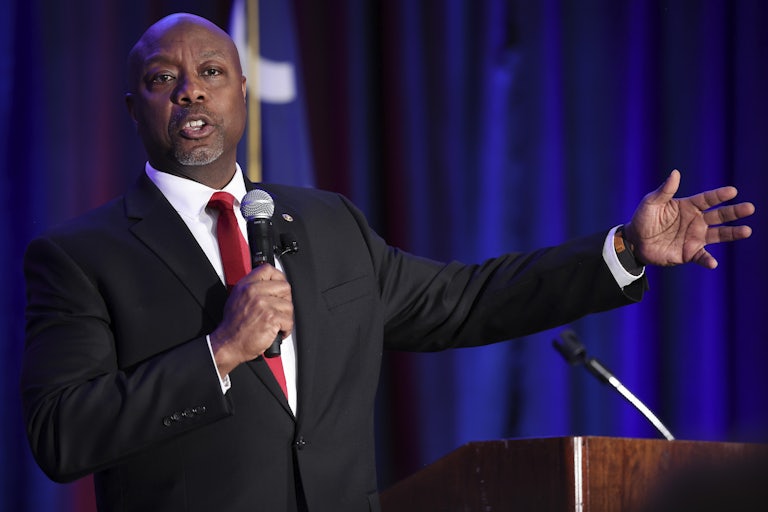 Win McNamee/Getty Images
South Carolina Senator Tim Scott is running for president. The longtime South Carolina politician made his announcement Monday at a rally in his hometown of North Charleston, after officially filing last week with the Federal Election Commission.
"Joe Biden and the radical left are attacking every single rung of the ladder that helped me climb," Scott said Monday, as his party threatens either cutting social security and Medicare services for millions of poor people, or upending the American economy. "And that's why, I'm announcing today, that I am running for president of the United States of America."
Scott joins a notably diverse Republican primary field, including Vivek Ramaswamy, radio host and failed Gavin Newsom–recaller Larry Elder, and another South Carolina political veteran, Nikki Haley. This also means Scott, the only Black Republican in the Senate, joins a slate of candidates vying to lead a party that has no committed concern for people who look like them.
Scott has generated a good deal of support from his colleagues; Senators Joni Ernst, John Cornyn, John Barrasso, and Lindsey Graham have all expressed enthusiasm for his run. Senator Mike Rounds committed to backing Scott's run last week. And on Monday, while making his announcement, Scott was joined by Senator John Thune, the second-in-command of the Republican caucus.
Scott first began his political career serving on the Charleston County Council for 14 years. In 2009, Scott was elected to the state House, becoming the first Republican African American to do so in over 100 years. He then went on to become the representative for South Carolina's first congressional district, becoming the first African American Republican elected to Congress from South Carolina in 114 years. And in 2012, then-Governor Haley herself announced she would appoint Scott to the state's junior senator position; he became the first African American to be a southern senator since Reconstruction.
But aside from these milestones, Scott is offering virtually nothing new in the already crowded Republican primary.
He has refused to disavow Donald Trump, who since announcing his bid has vowed to destroy the constitution, become the first former president to be criminally indicted, and been found liable for sexual abuse. On abortion, too, he falls in line with some of the most radical in his party: endorsing the idea of a 20-week national ban.
Last month, Scott announced his exploratory committee for president in a video in which he looked back at the Civil War: "the defining moment" of whether the country would "truly be one nation under God, indivisible, with liberty and justice for all."

"America's soul was put to the test, and we prevailed," Scott claimed. His nod to the Civil War was fascinating, given the ensuing failure of Reconstruction, and the mass backlash to the African American South Carolina Republicans that made it so Scott became the first in over a century to join in their footsteps.
"I know America is a land of opportunity, not a land of oppression," Scott said. "I know it, because I've lived it."

Scott did indeed come from a working background. He grew up in a divorced household, in which his mother worked long days to support his family. Scott's claim about his family—repeated again during his announcement Monday—represents a common conservative belief: because one individual's luck and hard work aligned, that proves that all people have access to the same outcomes. A logic that only makes sense if you have no knowledge, or concern, for how broader systems operate.
Scott has at times tried to address these systems, but just barely. After the murder of George Floyd, for example, he introduced the "Justice Act," purported to address police reform and "systemic issues affecting people of color." Nevertheless, while drafting such legislation, Scott insisted, time and again, that America is not a racist country. The bill, which did not address qualified immunity, never moved forward.
It is great that Scott was able to lift himself out of tough conditions. It's a shame that he, alongside Haley and other Republicans of color, insists on America's greatness by citing his own success in spite of the slate of racial and economic struggles he has faced, while also pretending those struggles are not systemically hurting people who look just like him.