The World Is on Fire, and Joe Manchin Still Doesn't Think the Issue Is Climate Change
The West Virginia senator was asked directly about climate change and the wildfires, and his answer was infuriatingly obtuse.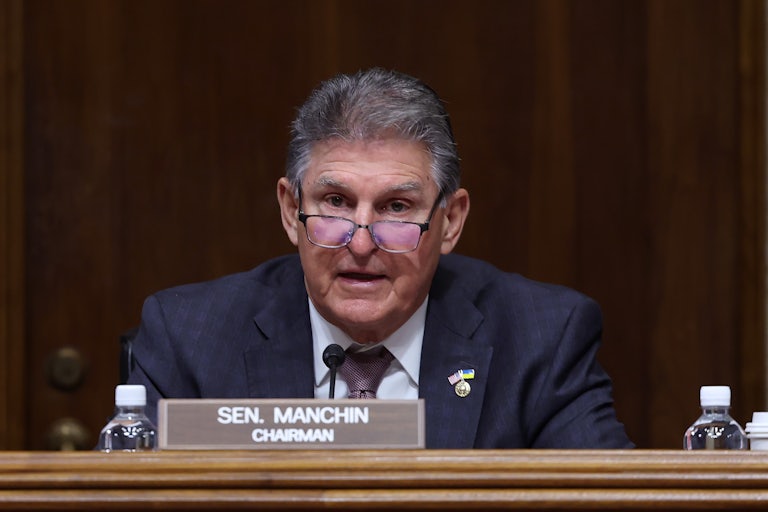 Kevin Dietsch/Getty Images
Senator Joe Manchin
On Thursday, conservative Senator and infamous fossil fuel baron Joe Manchin was asked about the northern wildfires that have left a third of America enveloped in health-threatening smog.

And Manchin answered in Manchin fashion, telling HuffPost reporter Igor Bobic that "everything is a factor" when asked whether climate change helps exacerbate wildfires. He parroted the conservative talking point that better management of forest lands is needed (true, but not even remotely enough to deal with the disasters we're facing).
"Climate change is global climate... Most of the pollution today is coming from Asia," Manchin added.
The notion is a common conservative talking point: Why should the United States curtail its emissions if China and India emit so much? The point is faulty for a few reasons, some logical, some philosophical.
For one, the United States emits a whopping 14.86 tonnes of greenhouse gas emissions per person. China's is almost half that, at 8.05; India's is even lower, at 1.93.
For another, whatever happened to the United States being a global leader? The castle on the hill? A driver of progress, a role model for other countries to aspire towards? It's remarkable how a movement so fixated on patriotism, on flaunting supposed national excellency, is so quick to shrug off the possibility of whipping the world to collaborate together in pursuit of our basic common interest of the survival of the planet.
The obvious contradiction is similarly evident in the conservative ideology's self-assured reverence of "responsibility."
If members of the American conservative movement were fiscally responsible, they would identify the astronomical cost of environmental degradation, perennial disaster response, and wildlife, food, and water system devastation, and respond accordingly. If they were personally responsible, they would have the humility to identify the actors liable for such destruction, and excise them from power and influence—rather than just throwing blame to other countries. If they were interpersonally responsible, perhaps they'd get the stones to remove themselves from associating with such a movement that led us to today in the first place.
Manchin may pretend that his more conservative proclivities are some nod towards reasoned, thoughtful responsibility (as opposed to self-interest in how financially implicated he himself is in fossil fuels). But even with that self-purportion, there simply is no responsibility in the conservative movement, personally, or otherwise. Only a philosophy built on responsibility towards each other—those you know, and those you perhaps never will—will be sufficient to meet the challenges of the day.
Until such a day, the haze of our time will only grow thicker.