Vivek Ramaswamy Wants to Give Putin Whatever He Wants in Ukraine
"Our goal should not be for Putin to lose," the Republican candidate boldly claimed.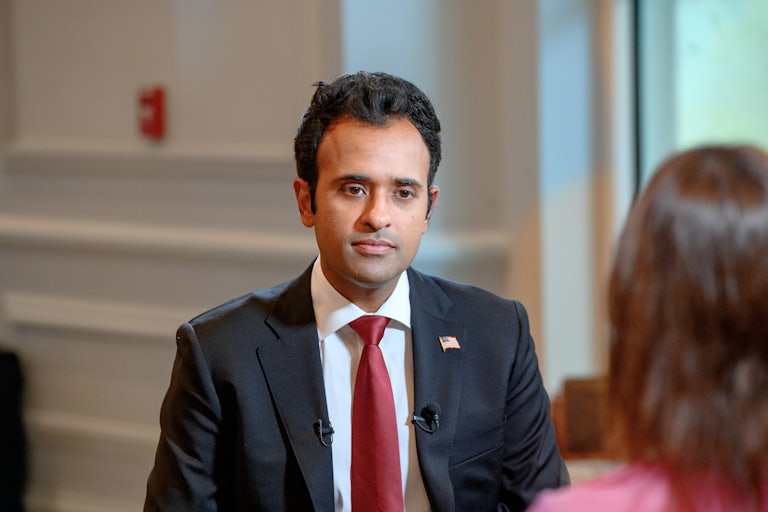 Ivan Apfel/Getty Images
Republican presidential candidate Vivek Ramaswamy has a reckless plan for achieving U.S. global dominance: giving away other countries' territory.
Ramaswamy is already under fire for his objectively terrible plan to let China invade Taiwan after 2028 if he were elected. Now, the presidential hopeful thinks that Russia should be allowed to keep the parts of Ukraine it currently occupies.

"Our goal should not be for Putin to lose. Our goal should be for America to win," Ramaswamy told CNN Thursday night.
Ramaswamy said that U.S. involvement in Ukraine is strengthening the Russia–China military alliance—and the only way to break that alliance and bring Russia around to the American side is to give Vladimir Putin what he wants.
"I would freeze the current lines of control, and that would leave parts of the Donbas region with Russia," Ramaswamy explained. "I would also further make a commitment that NATO will not admit Ukraine to NATO. But there are even greater wins that I will get for the United States."
Ramaswamy seems to be under multiple false impressions with this diplomatic plan, the first being that the United States has the authority to simply give away parts of another sovereign nation. He also appears to believe that if he visits Moscow, he can single-handedly buddy up to Putin enough to convince the Russian leader to drop a highly advantageous military alliance.
And as anchor Jim Acosta rightly pointed out, Putin is unlikely to stop with Ukraine. He wasn't satisfied with annexing Crimea in 2014 and now wants all of Ukraine. If he is allowed to keep parts of Ukraine, it's possible that he'll try to invade somewhere else such as Poland, a NATO member—which would require military intervention from the rest of the members.
This plan is just as bad as Ramaswamy's strategy for Taiwan. Earlier this week, Ramaswamy proposed letting China take over Taiwan after 2028, which he believes is when the U.S. would build up its own supply of semiconductors. Taiwan produces about 60 percent of the global supply of semiconductors, which are microchips crucial to making all electronic devices.
Ramaswamy said he intends to dramatically up the firepower around Taiwan during his first term, to make clear to Beijing that they should "not mess" with the island until the U.S. has semiconductor independence. After that, China can do whatever it wants. It did not seem to occur to him that China would likely interpret these moves as acts of aggression and respond in kind. Nor does he seem to realize that it's highly unlikely China would listen to his proposed arrangement.
But despite his only campaign points being battling "wokeness," taking away rights, and, apparently, allowing authoritarian governments to do whatever they want, Ramaswamy is somehow rising in the polls.