Trump's Idiot Lawyer Undermines His Case Moments Before His Arrest
Alina Habba undercut the entire premise of Trump's defense against the January 6 charges.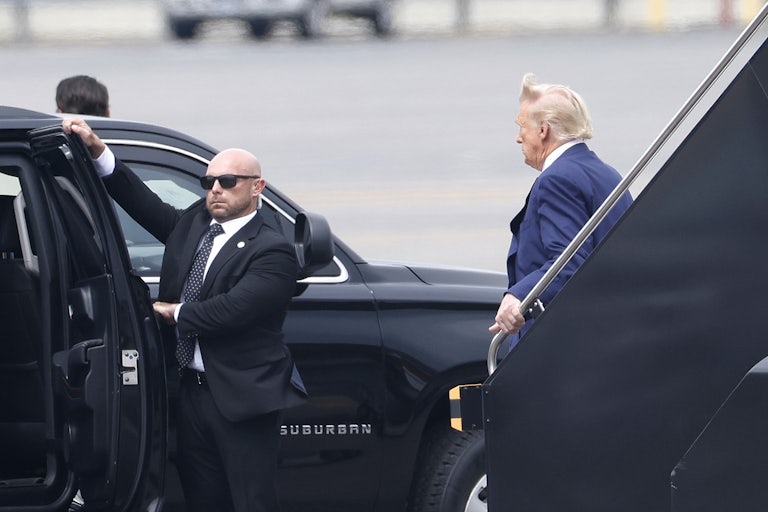 Tasos Katopodis/Getty Images
As Donald Trump entered a Washington, D.C., courthouse Thursday to be arraigned for his alleged role in trying to overturn the 2020 election, his lawyer was busy outside, undermining his entire case.
Trump was charged Tuesday for attempting to overthrow the 2020 presidential election. He faces four counts that include conspiracy to defraud the United States, conspiracy to corruptly obstruct an official proceeding, obstruction of and attempt to obstruct an official proceeding, and conspiracy against the right to vote. His record third indictment hinges on the argument that Trump knew he had lost the election but still actively worked to overturn the results.
Which means Trump's legal team should be arguing that he genuinely didn't know he lost. But Trump's lawyer argued the exact opposite.
"I think that everybody was made aware that he lost the election, but that doesn't mean that that was the only advice he was given," Alina Habba told reporters. "There are a numerous amount of advisers and politicians and lawyers, not just one or two, that are giving you advice and telling you what they believe is true."
"The president has the right, as every one of us do, to listen to several opinions and make their decision."
In other words, Habba admitted what the indictment said: A long list of people warned him not to do this.
The problem is also not how many advisers Trump had in the room. He and anyone else can simply say the election was rigged. That is technically protected by the First Amendment. The problem is that he acted on those words, despite knowing better, and encouraged others to do the same (this would constitute the "conspiracy" portion of the charges against him).
Habba's other arguments in Trump's defense weren't much stronger. "What is it that he did to try and switch the votes?" she demanded at one point. "By bringing cases, by using the law in an appropriate manner?"
"What President Trump did is he said, 'Go patriotically and peacefully, and protest.' That is an American right."
Habba seems to have forgotten that Trump was caught on a recording begging Georgia Secretary of State Brad Raffensperger to "find" thousands of votes. Trump also told his supporters that January 6 "will be wild" and urged them to "fight like hell," which does not exactly sound peaceful (but maybe she's paraphrasing).
Shockingly, this isn't the first time that a member of Trump's legal team has decided the best defense is just to admit to everything. John Lauro bluntly confirmed Tuesday that Trump had pressured Mike Pence to delay certifying the votes (which is against the law) and had tried to use fake electors (also illegal).