Trump Just Lost a Huge Fight in the E. Jean Carroll Case: Immunity
The Justice Department is refusing to back Donald Trump on this one.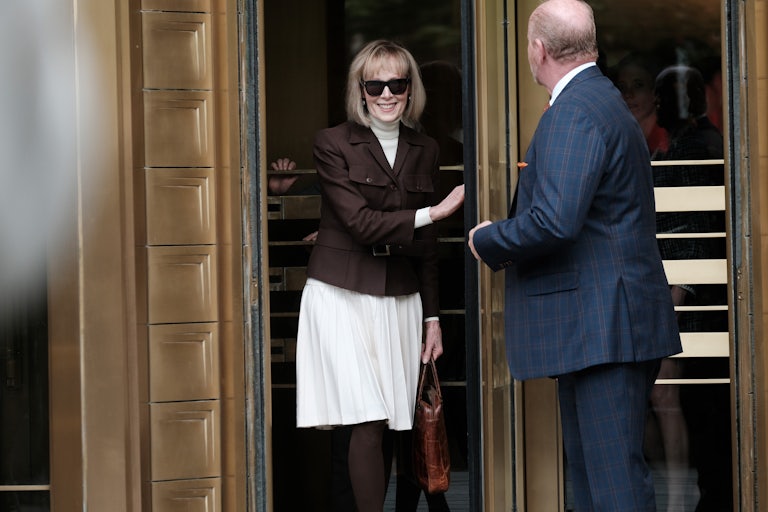 Spencer Platt/Getty Images
E. Jean Carroll
Donald Trump just lost another big fight in his ongoing legal troubles.
The Justice Department said Tuesday that it no longer considers Trump immune in E. Jean Carroll's defamation lawsuit against him.
Trump was unanimously found liable in May for sexual abuse and battery against Carroll in the mid-1990s, and for defaming her while denying the assault. He was ordered to pay her about $5 million in damages. But Carroll also has a second, pending defamation case against Trump, which dates back to 2019 and includes comments he made about her while in office. The Justice Department had previously said Trump was acting in his role as president when he made the comments, meaning he was immune from legal action.
But now, "the Department of Justice is declining to certify … that defendant Donald J. Trump was acting within the scope of his office and employment as President of the United States when he made the statements that form the basis of the defamation claims in plaintiff's Amended Complaint in this action," Principal Deputy Assistant Attorney General Brian Boynton said Tuesday.
This means that if Trump is found guilty of defamation, he will be responsible for any potential damages awarded to Carroll. She is seeking $10 million in damages in her second defamation case against him.
Boyton cited a recent legal challenge over whether the initial certification of immunity was valid. The case moved between New York and Washington, D.C., and produced no clear result. In a letter to presiding Judge Lewis Kaplan and Trump's legal team, Boynton explained that the Department "lacks adequate evidence to conclude" that Trump was motivated by a "purpose to serve the United States Government" when he denied assaulting Carroll and made the allegedly defamatory statements about her.
Carroll's lawyer Robbie Kaplan (no relation to the judge) hailed the Justice Department's decision. "We have always believed that Donald Trump made his defamatory statements about our client in June 2019 out of personal animus, ill will, and spite, and not as President of the United States," she said in a statement. "Now that one of the last obstacles has been removed, we look forward to trial in E. Jean Carroll's original case in January 2024."
Carroll accused Trump in her 2019 memoir of raping her in the Manhattan Bergdorf Goodman department store in the mid-1990s. She initially sued him twice for defamation: first in 2019, when he said she made up the rape allegation to promote her book, and again in November for posts he made about her on social media. Carroll is not the only woman to accuse Trump of sexual assault, but her case was the first to make it to a courtroom.
Trump continues to vehemently deny all of the allegations and launched fresh vitriol at Carroll during a disastrous CNN town hall in May. She amended her second lawsuit to include those comments.
Trump and his allies have repeatedly tried to thwart Carroll's various lawsuits, asking multiple times that the 2019 defamation suit be thrown out, and even begging for a new trial altogether.
Meanwhile, he is facing two criminal indictments, and a third that may be coming later this summer.
Safe to say this situation has just gone from bad to worse.