Republicans Suddenly Claim Trump-Appointed Prosecutor Is Evil Deep Stater
House Republicans now want to question U.S. Attorney David Weiss about Hunter Biden's "sweetheart deal."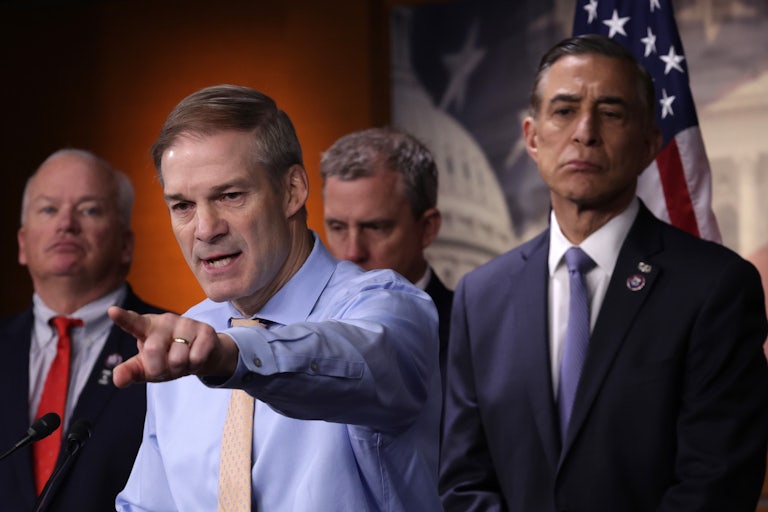 Alex Wong/Getty Images
Judiciary Committee Chairman Jim Jordan
In the wake of Hunter Biden's plea deal in Delaware, House Republicans are blind with rage that after all the buildup, the president's son isn't even going to be spending a single night in jail. And more than that, What—nothing about those alleged Burisma bribes? Joe Biden's mysterious $10 million in unreported 2017 income? On Fox News and in the New York Post, the Daily Mail, and other outlets, they already had Hunter Biden—and for that matter, Joe Biden too—tried and convicted for what Fox's Maria Bartiromo called "the biggest political scandal any of us has ever seen."
The air shot out of that balloon in a big way Tuesday, with the plea deal. And now House Republicans want to call on the carpet the U.S. attorney in Delaware who accepted the deal, David Weiss. House Oversight Committee Chairman James Comer wants Weiss to come in for a "briefing." Judiciary Committee Chairman Jim Jordan said the House should wait until the plea is formally entered. "If there's a plea entered and it's done and then the investigation is over, then certainly we're going to want to talk to him," Jordan was quoted as saying.
The thread Jordan is hanging onto in that quote is the question of whether this investigation is truly over. Weiss introduced some ambiguity on this matter in his post-deal statement that the probe "is ongoing." He did not elaborate. Did he mean simply that it's ongoing in the sense that it's still on until the plea is officially entered? Or did he mean, as Bill Barr suggested last week, that he's still looking into the Burisma angle?
It's the key thing to watch here. It would seem pretty weird for a U.S. attorney to close an investigation into an individual while still probing other charges against that individual. But a lot of weird stuff is happening in America these days.
Bear in mind: Weiss was appointed to his position by Trump. When he became president, Biden left Weiss in the post specifically so he could continue the investigation into his own son—because he saw, rightly, that installing his own person would be seen as a banana-republic-perversion-of-justice kind of move. So he left the fate of his own son to a potentially hostile federal prosecutor. Think Donald Trump would have done that?
And if this is really the end of Huntergate? Well, to most of us, it will prove that the right was overhyping this from jump street. In Wingnuttia, it will merely prove that the deep state is so pervasive, so many-tentacled, that it swallows even Republican prosecutors in its embrace. There's always an excuse.