Donald Trump's Former Attorney General Thinks He's a Child
The former president is also seen as a national security risk by many of the people who worked closest with him in his former administration.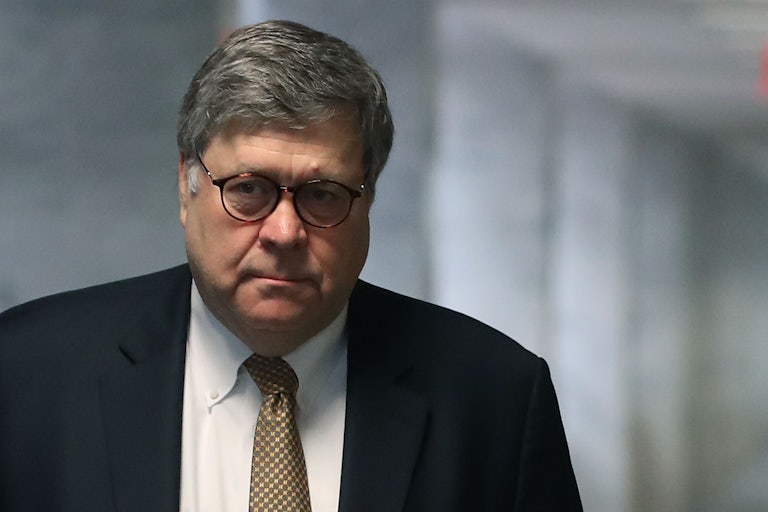 Photo by Mark Wilson/Getty Images
Two of Donald Trump's ex-advisers warned over the weekend that the former president poses a massive threat to national security, in light of his recent indictment for allegedly mishandling classified documents.
Former Attorney General Bill Barr called Trump's conduct "indefensible" on Sunday. Although he defended some of his former boss's behavior, Barr opposed Trump running for office again.
"Should we be putting someone like this forward as the leader of the country, leader of the free world?" Barr told CBS's Face the Nation. "He will always put his own interests, and gratifying his own ego, ahead of everything else, including the country's interest, there's no question about it."
"He's like a … defiant 9-year-old kid who's always pushing the glass toward the edge of the table, defying his parents to stop him from doing it," Barr continued. "It's a means of self assertion and exerting his dominance over other people. And he's a very petty individual … but our country can't be a therapy session for, you know, a troubled man like this."
Also on Sunday, former Defense Secretary Mark Esper told CNN's State of the Union that Trump's alleged handling of classified material was "unauthorized, illegal, and dangerous." He compared Trump's actions to those of Jack Teixeira, the Massachusetts Air National Guard member accused of leaking sensitive military documents online.

When asked if he thought Trump could ever be trusted with national secrets again, Esper replied, "Based on his actions, again, if proven true under the indictment by the special counsel, no."
"I mean, it's just irresponsible action that places our service members at risk, places our nation's security at risk. You cannot have these documents floating around."
Trump was charged with a total of 37 counts for keeping classified information, some of it relating to national security, without authorization, making false statements, and conspiring to obstruct justice. Barr and Esper are the latest former Cabinet members to turn on Trump over the indictment.
Former national security adviser John Bolton said the indictment should end Trump's political career, and former chief of staff John Kelly said Trump was "scared shitless" at the prospect of actually being held accountable for once.
It's worth noting, though, that all of these men defended Trump during his time in office and continue to justify some of his behavior. Still, their comments underline just how serious the charges Trump faces are and how indefensible his actions were.
More on Trump's (Second) Indictment