9-Year-Old Girl With Short Hair Left Sobbing After Being Attacked for Being Trans
"This is where anti-trans hate leads."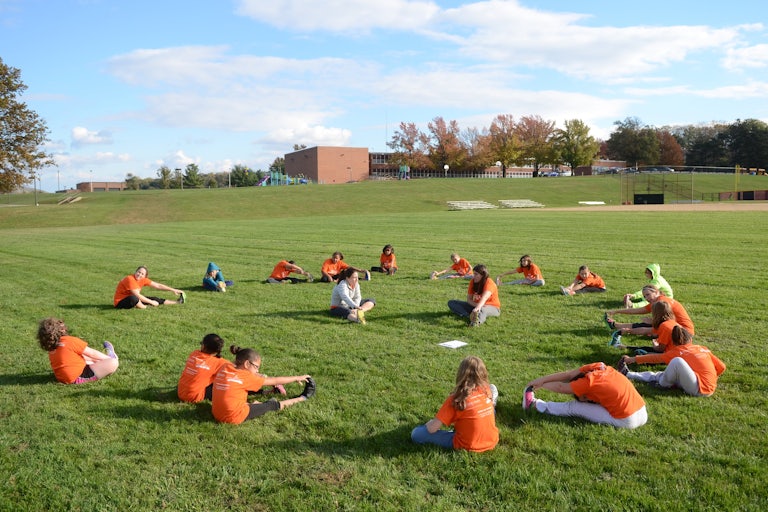 Ben Hasty/MediaNews Group/Reading Eagle/Getty Images
A 9-year-old girl was left sobbing after she was falsely accused of being transgender just because she has short hair, in a clear sign of how transphobia harms everyone.
The girl was competing in a shot put event at her elementary school in British Columbia, Canada, last week, when the grandfather of another girl demanded to know why a boy was competing in a girls' event.
The girl's two mothers allege that the man, who has been identified as a 68-year-old named Josef Tesar, shouted, "Hey, this is supposed to be a girls' event, and why are you letting boys compete?"
One of the mothers, Heidi Starr, said Tesar insisted, "If she is not a boy, then she is obviously trans," and repeatedly shouted for people to "get that boy off the field." Starr said her daughter is female, identifies as a girl, and wears a pixie haircut.
Starr said that Tesar demanded to see proof her daughter was born female. "I said … 'Are you asking for a certificate proving that my daughter was born with a vagina [and] you need a proof of her genitals?'" Starr told the CBC.
She also said his wife called her a "genital mutilator, a groomer, and a pedophile."
As for her daughter, "she was physically vibrating," Starr said. "She was sobbing. She was in and out of tears all day till bedtime that day," which happened to be her birthday.
Tesar and his wife have denied that they yelled at the girl specifically. He accused the mothers of trying to "satisfy an agenda" and "fabricate the lies and hate towards us."

His wife insisted she "said something appropriate. Not those words.… Maybe something like, 'F off.'"
The Kelowna Royal Canadian Mounted Police are now investigating the incident. The superintendent for the Central Okanagan Public Schools, which hosted the sports competition, said Tuesday that they were in the process of banning Tesar from all school properties and events.
But the entire incident shows how far the effects of transphobia reach. People who push to ban trans girls from girls' sports say they are trying to protect children. Instead, such policies give people permission to attack people of all ages, including children, to question their identities, and accuse them of somehow lying.

"Those who push anti-trans hate want to roll us back to an idealized version of the past," Fae Johnstone, executive director of the Canadian social justice consulting firm Wisdom 2 Action, tweeted about the attack. "One where women are forced to look and act a certain way. One where gender conformity is enforced through hate, shame, and stigma."
"Fighting anti-trans hate is key to a feminist future."