Rudy Giuliani Is the Biggest Creep Ever, New Legal Documents Say
Giuliani regularly made disturbing comments to his former assistant, like "I want to own you."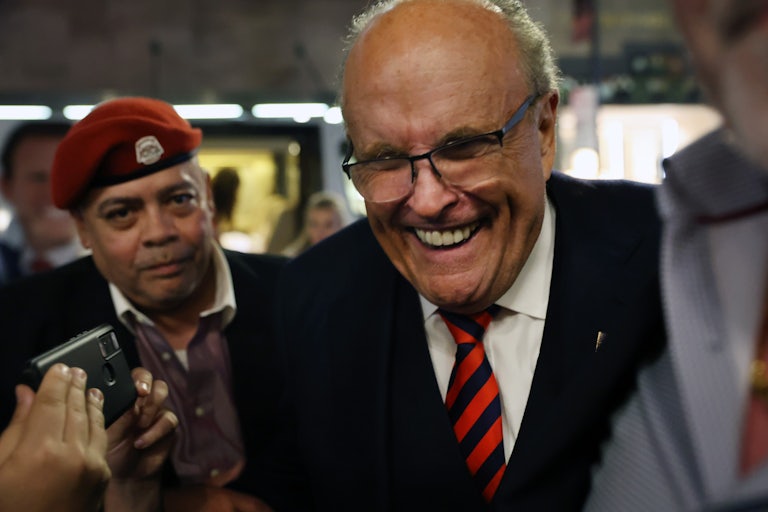 Spencer Platt/Getty Images
New documents in a sexual abuse lawsuit against Rudy Giuliani reveal that the former New York mayor frequently made misogynistic, antisemitic, and homophobic comments—meaning that he's an even more disgusting creep than previously thought.
Giuliani's former associate Noelle Dunphy sued him in May, accusing him of promising to pay her a $1 million annual salary but instead raping and sexually abusing her over the course of two years. Her lawsuit alleges that Giuliani was constantly drunk, talked openly about trying to overturn the 2020 election, and even plotted to sell pardons with Donald Trump at the low, low price of $2 million each.
Giuliani has denied all of the accusations, but Dunphy reportedly has a wealth of recorded conversations to back herself up. Her lawyer filed transcripts of some of those recordings from 2019 late Tuesday, and they are truly horrifying.
In multiple different conversations, Giuliani made aggressively lewd and possessive comments to Dunphy, at one point saying, "I want to own you, officially."
"Legally, with a document," he added.
He also said he gets "hard" when he thinks about her and how smart she is, even though normally, "I'd never think about a girl being smart. If you told me a girl was smart, I would often think she's not attractive."
Giuliani also admitted to having a two-year affair with his now-girlfriend, Maria Ryan, despite previously denying an illicit relationship.
He claimed that former New York Mayor Michael Bloomberg and actor Matt Damon were both gay, despite there being no evidence of that. Both Bloomberg and Damon have been in relationships with women for the past 20 years.
Giuliani said that Jewish men have smaller penises than Italian men (Giuliani is Italian) and complained about Jewish holidays. He was particularly steamed about Passover and said that Jewish people should "get over the Passover."