Kevin McCarthy's Explanation for Trump's Third Indictment? He's So Popular!
The House speaker is bending over backward to try to defend Trump as he faces yet another criminal indictment.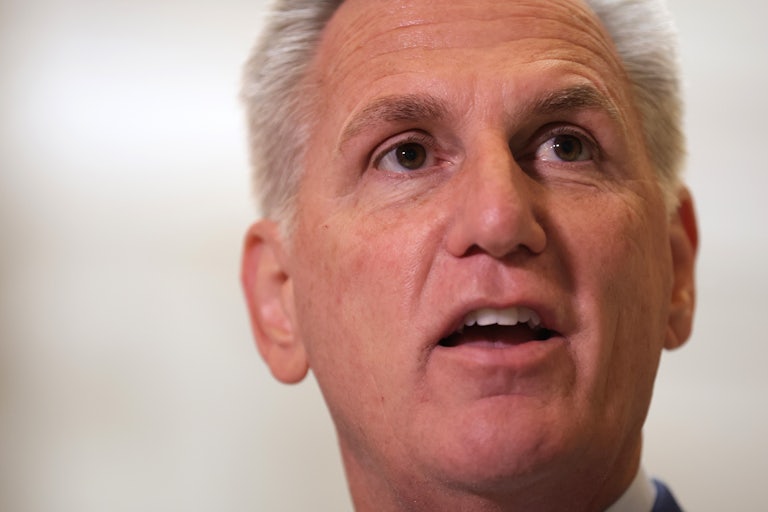 Alex Wong/Getty Images
According to Kevin McCarthy, the only reason Donald Trump faces criminal consequences is because he polls so well.
McCarthy's suggestion comes while the twice-impeached, twice-indicted, and liable-for-sexual-abuse former president is now facing a possible third indictment for helping incite a riot on the nation's Capitol.
Trump announced on Tuesday that he has been notified that he is a target in the Justice Department's investigation into efforts to overturn the 2020 election, a sign that he may be charged soon.
This could prove to be a moment of conservatives turning more forcefully against the man who led the party to defeat in 2020, helped it fizzle away high expectations in 2022 and lose special election after special election. But not for McCarthy.
The House speaker wasted no time falling on the sword for the loser and serial criminal.
"Well, I guess under a Biden administration, Biden America, you'd expect this. If you noticed recently, President Trump went up in the polls and was actually surpassing President Biden for reelection," McCarthy said. "So what do they do now? Weaponize government to go after their number one opponent. It's time and time again. I think the American public is tired of this. They want to have, see equal justice and the idea that they utilize this to go after those who politically disagree with him is wrong."
The American public is tired of something, but it might have more to do with Trump's crimes—and Republicans' mealy-mouthed defenses of them—and less about Trump actually being held accountable.
It's not as if McCarthy has no idea what stance he could take instead. In January 2021, for instance, McCarthy sang a different tune, saying the attack on the Capitol "was undemocratic, un-American, and criminal" and that "the president bears responsibility."