The Outrage Over Rashida Tlaib's Palestinian Nakba Event Reveals Everything About U.S. Politics
A Palestinian member can't even talk about her family's history without being labeled antisemitic.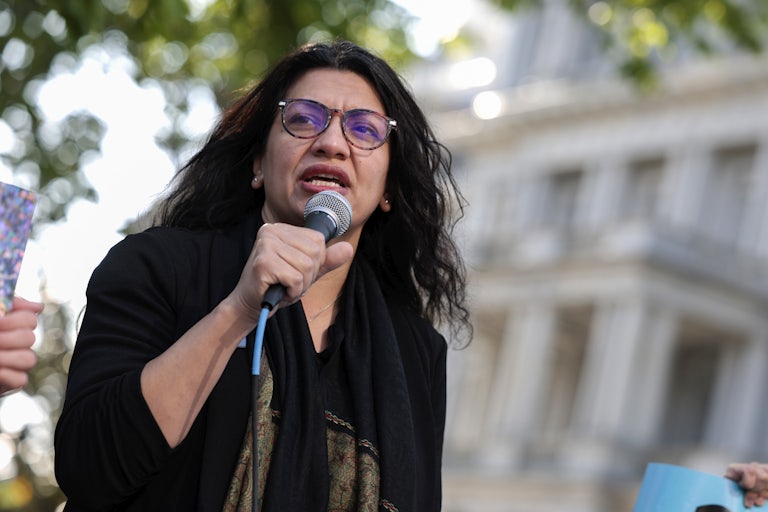 Anna Moneymaker/Getty Images
On Wednesday, Representative Rashida Tlaib, the first female member of Congress of Palestinian descent, sponsored an event raising awareness about the Nakba.* Known as "the catastrophe," the Nakba refers to the ongoing series of events beginning in 1948 that led to the persecution and displacement of Palestinians, and the occupation of Palestine that continues today.
The event, originally planned to take place at the Capitol Visitor Center, sought to "uplift the experiences of Palestinians who underwent the Nakba, and educate members of Congress and their staff about this history and the ongoing Nakba to which Israel continues to subject Palestinians," according to an event page.
Apparently such a notion—reflection, education, conversation—was too much for some.
First, House Speaker Kevin McCarthy intervened and blocked the event from happening as planned, booking the room where the event was meant to be held.
McCarthy accused the event of trafficking in "antisemitic tropes about Israel." (If McCarthy was suggesting it's antisemitic to draw attention to Israel's occupation of Palestine, well, conflating a state's violent actions with Jewish people more broadly is actually antisemitic.)
Nevertheless, the event went on. Jewish Senator Bernie Sanders welcomed the event to be held in the Health, Education, Labor and Pensions Senate committee room, which is under his jurisdiction. But still, the blowback continued.
"I wholeheartedly disapprove of the Majority permitting the use of the HELP Committee room for this divisive event," Senator Bill Cassidy, ranking member of the HELP committee, said in a statement. "The Capitol Grounds should not be used as a pedestal to legitimize anti-Semitic bigotry."
Senator Jacky Rosen became the first Senate Democrat to speak against the event. "Calling the establishment of the world's only Jewish state a 'catastrophe' is deeply offensive, and I strongly disagree with allowing this event to be held on Capitol Hill," she said. Rosen's comments seemed to erase the core concern that the history of the state has been catastrophic specifically for Palestinians. Instead, Rosen purported that organizers suggest it is catastrophic more broadly for Jewish people to have a safe place to call home.
Shortly after canceling the event, McCarthy pledged to "host a bipartisan discussion to honor the 75th anniversary of the U.S.-Israel relationship," unwittingly affirming America's bipartisan commitment to the displacement and violence that has been inflicted upon Palestinians since 1948.
Nevertheless, the lengths McCarthy and anti-Palestinian groups went to to cancel the event did not prevail.
Meanwhile, Thursday marks one year since Palestinian American journalist Shireen Abu Akleh was killed by an Israeli soldier, as she reported on an Israeli military invasion of a refugee camp in occupied Palestine. Independent investigations have concluded she was the victim of a targeted killing, despite (or perhaps because of her) wearing a blue vest with "PRESS" clearly written on it.
And yet, one year later, Israel has faced no consequences for killing an American citizen.
Nor, of course, has Israel faced consequences for its ongoing violence against Palestinians. At least 123 Palestinians have been killed by Israeli forces this year—about one a day. The number is probably higher, as Israel continues airstrikes on Gaza.
This lack of accountability—all while Israel has ratcheted up its violent attitudes toward Palestinians—reveals why Tlaib's Nakba event was so needed. America as an entity and as a group of people largely imagines itself to be honorable, pursuant to the light of democracy, at the very least, to be trying its best. It cannot fulfill any of that without knowing the story of the Nakba and how its legacy of displacement and disrespect toward Palestinians is so clearly part of our contemporary times.
* This piece originally misstated that Tlaib is the first member of Congress of Palestinian descent.