Preparing for CNN's Town Hall With a Sexually Abusing, Coup-Inducing Impeached President
The details coming out about CNN's town hall (and its audience) are more than troubling.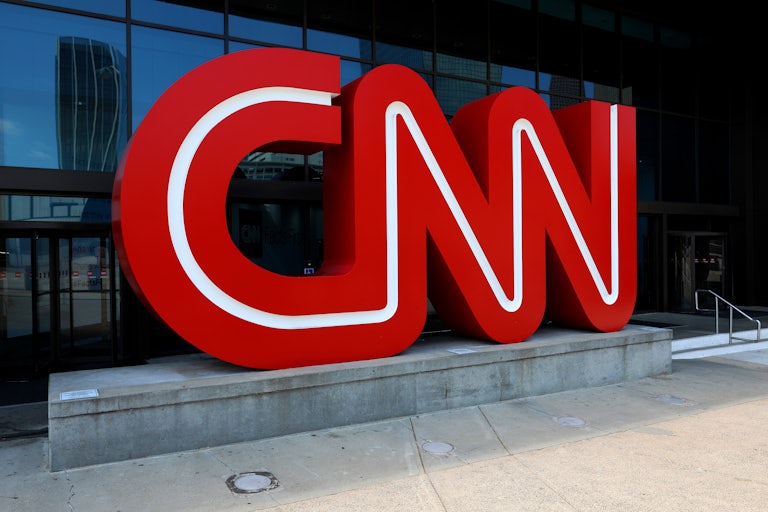 Raymond Boyd/Getty Images
One day after Donald Trump was found liable for sexual abuse and defamation against E. Jean Carroll—adding to his carousel of baggage, including being impeached twice, becoming the first president ever to be criminally indicted, and still facing numerous other investigations into his efforts to overthrow our democracy—he will be joining CNN for a special live-to-tape town hall event.
And the details coming out about the town hall spark even more concern.
According to reports, Wednesday's town hall will be set in front of an audience solely of New Hampshire Republican and Republican-leaning independent voters. It is not uncommon for town halls to be in front of members of the candidate's party (though, perhaps that's a convention that doesn't have to remain)—but this is someone who has been charged with numerous crimes and helped incite a coup on America's democracy.
And those Republican voters are the ones who get to ask questions of Trump, who, as a reminder, is still the front-runner in his party among said Republican voters.
CNN's Kaitlin Collins will be the anchor tasked with the job of both hosting a space for voters to ask questions and determining when to jump in and what questions to ask. She will have to fact-check Trump in real time, lest the network already giving a criminal open-air time also allows said criminal to lie even more.
"I'll be doing CNN tomorrow night, LIVE from the Great State of New Hampshire, because they are rightfully desperate to get those fantastic (TRUMP!) ratings once again. They made me a deal I couldn't refuse!!!" Trump wrote on Truth Social one day before the town hall. "Could be the beginning of a New & Vibrant CNN, with no more Fake News, or it could turn into a disaster for all, including me. Let's see what happens? Wednesday Night at 8:00!!!"
One Trump adviser has called this town hall part of a larger effort "to jumpstart the relationship" once warmly shared between the network and Team Trump, while CNN itself describes Trump's appearance as a sign of the candidate's "broader and more traditional campaign strategy."
Hopefully Collins doesn't fall for that. Just days before Trump was indicted by a grand jury for his role in paying hush money to Stormy Daniels, Trump snapped at a reporter for asking him about the investigation at all, grabbing the journalist's two phones and throwing them to the side.
CNN commentator and retired Washington, D.C., police officer Michael Fanone (who was assaulted by rioters during the January 6 attack, resulting in a heart attack, severe burns, and brain injuries) railed against the network for hosting the town hall, in a Rolling Stone piece titled, "CNN Is Hosting a Town Hall for a Guy Who Tried to Get Me Killed."
"Putting him onstage, having him answer questions like a normal candidate who didn't get people killed in the process of trying to end the democracy he's attempting to once again run, normalizes what Trump did," Fanone wrote. "It sends a message that attempting a coup is just part of the process; that accepting election results is a choice; and that there are no consequences, in the media or in politics or anywhere else, for rejecting them."