Rudy Giuliani Is a Raging Alcoholic and Sexual Predator, Says New Lawsuit
A quick look at how many times times the words "force," "abuse," "rape," and "drunk" come up in the bombshell lawsuit.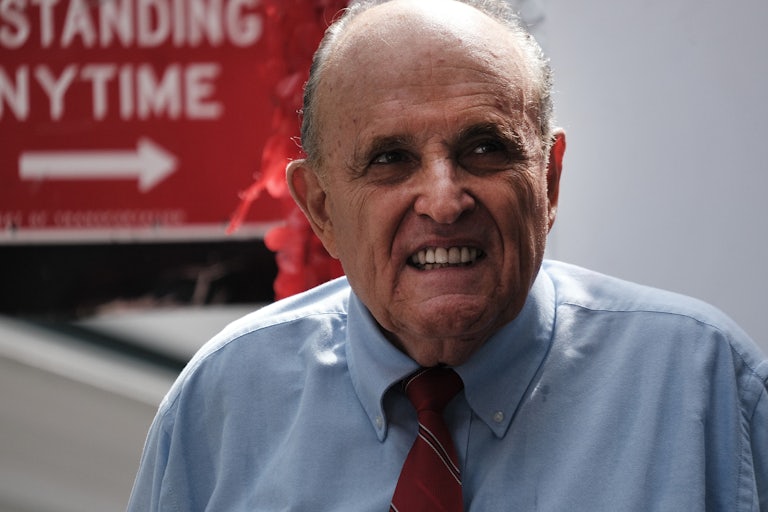 Spencer Platt/Getty Images
According to Rudy Giuliani, "Black guys hit women more than anybody else does … and so do Hispanic guys—it is in their culture," and "Jews want to go through their freaking Passover all the time, man oh man. Get over the Passover. It was like 3,000 years ago."
The comments are just the cherry on top of a vile ice cream sundae of allegations about the former New York City mayor and Trump lawyer. A new $10 million lawsuit accuses Giuliani of making these comments, as well as promising to pay a woman a $1 million annual salary to work as his associate, and instead raping and abusing her over the course of two years. The suit adds that Giuliani was constantly drunk, was open about efforts to overturn the 2020 election, and that he plotted to go in with Donald Trump on selling off pardons at $2 million a pop.
The 70-page lawsuit goes to great detail in explaining Giuliani's alleged behaviors, down to specific dates and locations; the defendant and victim, Noelle Dunphy, reportedly has a trove of recorded conversations to back up her allegations.
From allegedly abusing Dunphy and being constantly drunk to making vile comments about public figures and pretty much every single culture, the lawsuit levels a slate of disturbing accusations against the longtime Trump lackey.

Here's a taste of the scale and degree of what Giuliani is being accused of in the massive $10 million lawsuit, through word count:
Abuse, abused, abusive, abusing: 33

Alcohol, alcoholic, alcoholism: 11

Drink, drinking, drinks, drinker, drunk: 16

Force, forcing, forced, forcible: 21

Harass, harassing, harassment, harassed: 47

Intoxicated: 9

Jew, Jewish: 3

Pressure, pressuring: 11

Rape: 4

Scotch: 4

Sex: 35

Sexual, sexually, sexualize, sexual assault, sexual abuse, sexual harassment: 87

Wage: 19