Kyrsten Sinema Literally Gives Democrats the Middle Finger
A new report reveals what the Arizona senator really thinks about the Democratic Party.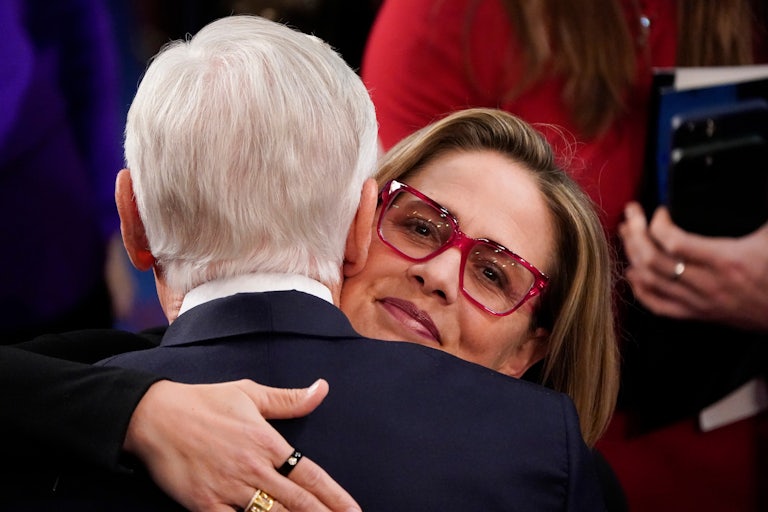 J. Scott Applewhite/Pool/Getty Images
Senator Kyrsten Sinema
Kyrsten Sinema is a Republican.

Once a Green Party member, Sinema subverted expectations enough by coming into herself as an extremely conservative Democrat. And since she turned the dial further by becoming an independent, the political media has inquired with great curiosity about Sinema's political future and where she sees herself in the battleground of American politics.

But a new report from Politico has shed more light on what she really thinks about Democrats. The Arizona senator has reportedly gone on a national tour to schmooze with corporate lobbyists and donors, often of the Republican persuasion, criticizing Democrats and in one instance even flipping off a White House aide while talking about him.
"I'm not caucusing with the Democrats; I'm formally aligned with the Democrats for committee purposes," Sinema said to a select group of Republican lobbyists at a Washington, D.C., reception. "But apart from that I am not a part of the caucus."
At that same reception, Sinema bragged about her apparent role in getting a federal judge from Arizona confirmed in the divided Senate. She recounted a White House aide calling to enlist her help. Boasting of the judge's successful confirmation, Sinema revealed the identity of the aide to her enraptured Republican lobbyist audience. "That was [Ron] Klain," she noted, flashing her middle finger in the air about the former White House chief of staff.
She also dismissed Senate Democratic luncheons. "Old dudes are eating Jell-O, everyone is talking about how great they are," she reportedly said. "I don't really need to be there for that. That's an hour and a half twice a week that I can get back."
Beyond White House staff, Sinema has derided everyone from Senate Majority Leader Chuck Schumer to "honorary" leader and fellow moderate Joe Manchin.
At one point, a Republican donor told Sinema it was not Manchin but her who "carried the water for us in this last Congress." She responded: "You're hired."
"Without you our taxes would've gone through the roof," the donor glowed. "They would have," Sinema agreed.
Sinema has reportedly complained about Manchin, saying that "people often assume that we're the same person." She then repeatedly noted to a corporate audience that she has "better tax policy ideas" than Manchin's more traditional Democratic stance on taxing the wealthy.
The Arizona conservative also went to Georgia earlier this month to visit the American Enterprise Institute's annual forum, where she sat alongside Republican Senator Susan Collins and spoke glowingly of her relationships with other Republicans. To other exclusive crowds, she has mocked House liberals as "crazy people" and her Democratic colleagues overall as being not "familiar" with tax policy. And just as Republican donors and lobbyists can't get enough of her company, Republican elected officials themselves are laying out a red carpet for her.

Sinema's work has paid off, with Senator Mitt Romney telling Politico he "could very easily endorse" her in 2024.
The Politico report is another reminder that the political press would do well to stop perpetuating the mystique surrounding Sinema. While some point to her generally Democratic voting record, that alone is not enough to see her as more friendly to the Democratic agenda than not (after all, recall her elemental role in watering down Biden's infrastructure bill, for instance). And given the fact that the senator insists on spending her free time chumming it up with Republican lobbyists and corporate donors, she cannot be mistaken as a Democrat and certainly is not someone with an "independent ideology."