It's Now Legal in Florida for Doctors to Deny Health Care to Anyone If They Feel Like It
Florida Governor Ron DeSantis signed a dangerous bill that would give virtually any health care provider (including insurance companies) the right to deny care.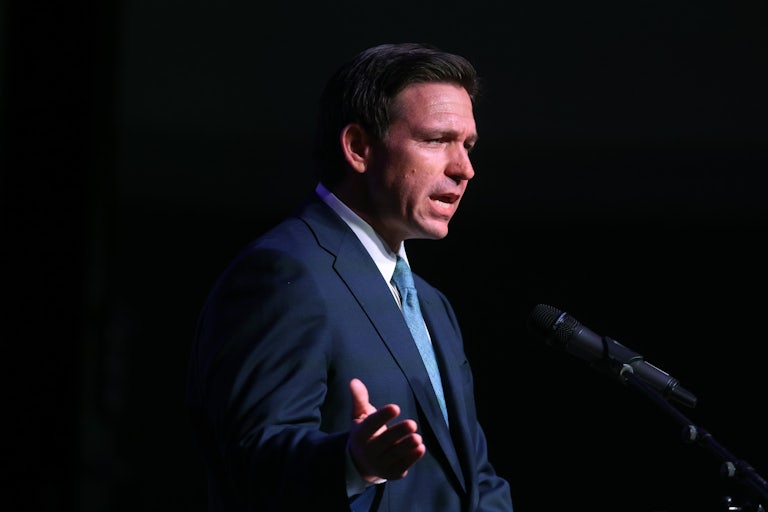 Scott Olson/Getty Images
Florida Governor Ron DeSantis signed a bill on Thursday that will allow doctors and health insurance companies to deny care to anyone they want.
Under the new law, "a health care provider or health payor has the right to opt out of participation in or payment for any health care service on the basis of a conscience-based objection," meaning based on their moral, ethical, or religious beliefs.
Providers and insurers will face no consequences under the measure and will not be required to refer patients to a place that would provide the needed care. If they are penalized for denying care or coverage, the doctor or company can sue.
The law makes no mention of protections against gender- or race-based discrimination, leading opponents to rightly worry that the sweeping nature of the text will let providers deny care or coverage to women, people of color, and LGBTQ people. A doctor could deny care, for instance, if they are "morally opposed" to gender-affirming care, or if they don't like that a patient is having premarital sex. And it's not just doctors—under the law, insurance companies, nurses, pharmacists, hospitals, ambulances, and more could all also deny care.
"This bill is a broad license for health care providers and insurance companies to refuse services to people. No one should be denied access to medical care," said Brandon Wolf, the press secretary for Equality Florida. "This puts patients in harm's way, is antithetical to the job of health care providers, and puts the most vulnerable Floridians in danger."
Kara Gross, the legislative director and senior policy counsel for the ACLU of Florida, had previously warned that the bill left too much room for subjectivity in determining criteria for care. "There is no definition of 'moral' or 'ethical' in the bill. Who determines what constitutes a sincerely held moral or ethical belief, and more importantly, why should access to health care be denied based on such vague, imprecise, and subjective terms?" she said in a statement.
This law is one of the latest moves in Florida Republicans' unrelenting attacks on people's rights and access to health care. They have taken particular aim at women and LGBTQ people. Just last week, the legislature passed a bill that would let the state take transgender minors away from their families if they are receiving gender-affirming care. DeSantis has also signed a law banning abortion at six weeks, before many people even know they are pregnant, that will decimate abortion access throughout the South.