Minnesota Man Charged With Arson at Two Mosques Also Harassed Ilhan Omar
Someone attacked multiple houses of faith, an elected official, and even a police officer. Where are all the columnists calling for civility?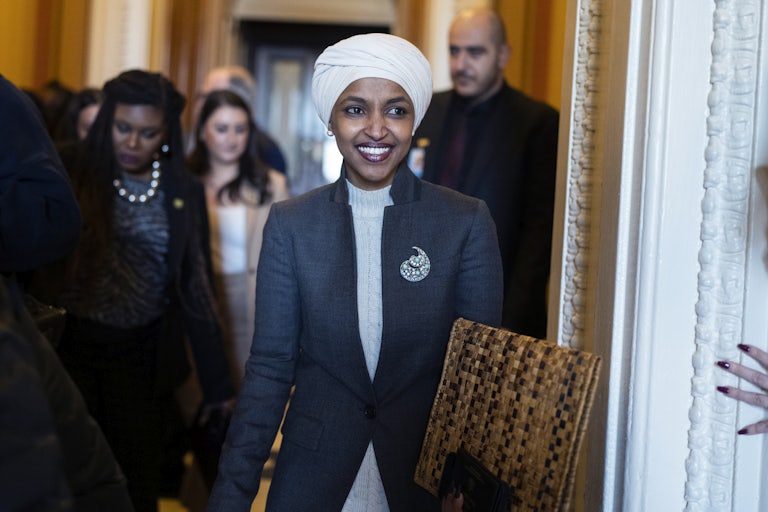 Tom Williams/CQ-Roll Call, Inc/Getty Images
A man committed arson against two places of worship and vandalized the office of a sitting member of Congress, but you would not have been blamed for missing it.
Jackie Rahm Little, also known as Joel Arthur Tueting, has been arrested after allegedly committing arson at two mosques in Minneapolis last week. He also is allegedly guilty of shoplifting spray paint before proceeding to vandalize Representative Ilhan Omar's office, a patrol vehicle assigned to a Somali Minneapolis police officer, and a marketplace locally known as the Somali Mall.
Little has a troubling history, and the latest incidents embody the exact kind of violence most of mainstream America purports to care about: attacks on houses of faith, law enforcement, and elected officials. As always, the point is not to ramp up carceral impulses but rather to confront the basic fact that acts of arson against mosques and threats to one of the first Muslim women, the first Somali American, and the first naturalized citizen of African birth elected to Congress are simply not garnering the national concern that any such attack should warrant.
Court documents from the Justice Department detail the exact alleged sequence of events. On December 30, 2022, Little, using the email address wewantjesusdead999@gmail.com, sent a message to a congressional email account (redacted in the documents, though Omar has confirmed that her office was the target of the harassment). The message depicted a Quran in a toilet being urinated on by a male subject. The following day, Little sent an image of a bloody ear.

Days later, Little was seen "shoplifting or attempting to shoplift spray paint from a Target store." Hours later, he spray-painted the text "500" on the door of Representative Omar, photographing his handiwork once done. In the evening, he went on to spray-paint the same message onto the vehicle of the Somali police officer before doing the same at the Somali Mall.

Two days later, Little sent another message to Omar's congressional email account, with an image titled, "Ready for rush n*****.png" (censored). The image was of Omar in the U.S. Capitol speaking with a colleague.
Finally, two months later, on March 6, Little sent another message with images—one of which was a picture of the "500" spray-painted on Omar's door.
The following month, in late April, Little started a fire in the bathroom of the Masjid Omar Islamic Center, which is located in the same building as the Somali Mall.
The next day, Little allegedly started a fire at the Masjid Al Rahma Mosque, prompting the evacuation of an array of individuals, including some 40 children who were attending daycare at the center. The damage may have totaled tens of thousands of dollars, according to court documents.
Authorities from nearby Plymouth's police department say the suspect has a history of suspected arson, including in May 2022 and December 2021; he also has numerous documented incidents of domestic assault and other violent incidents on his record from as recently as March 2023.
"We are witnessing an epidemic of hate against the Muslim community and other religious minorities in Minnesota and globally right now. This campaign of terror is designed to keep us fearful and divided," Omar said in a statement after the news of Little's arrest. "As Muslim-Americans and as Minnesotans, we will not be terrorized. We will continue to stand united against bigotry because love is stronger than hate."