Progressives Blast Kyrsten Sinema: "No Goals for Arizonans, No Vision, No Commitments"
Representatives Alexandria Ocasio-Cortez, Jamaal Bowman, and Raul Grijalva all criticized the Arizona senator's decision to switch parties.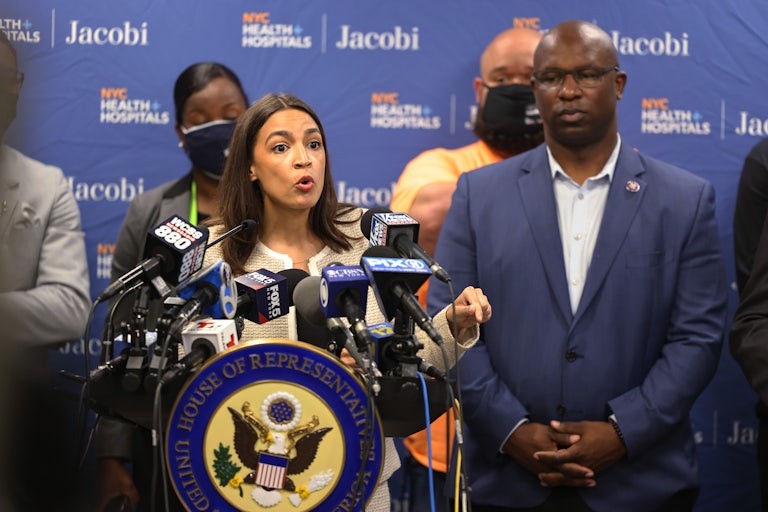 Michael M. Santiago/Getty Images
Progressives made clear Friday they are not happy with Kyrsten Sinema and her decision to switch party affiliation.
Several of her colleagues issued scathing rebukes of the Arizona senator and her legislative history.
"With Senator Warnock's re-election, Kyrsten Sinema's ability to be the center of the political universe has ended within the Democratic Party," said Representative Raul Grijalva, a fellow Arizonan and former head of the Congressional Progressive Caucus, referring to Raphael Warnock's victory in the Georgia runoff election.
"This is a predictable outcome for Senator Sinema as she has entirely separated herself from any semblance of representing hardworking and struggling Arizonans."
Since coming to Capitol Hill, Sinema has undergone an ideological 180, seemingly jettisoning the progressive beliefs she previously espoused. This was one of progressives' top critiques of her Friday.
She is also deeply unpopular across the board, but particularly among Democratic and independent voters.
Representative Alexandria Ocasio-Cortez, never one to hold back, also laid into Sinema, taking to Twitter to critique the senator's video message announcing she was registering as an independent.
"Not once in this long soliloquy does Sinema offer a single concrete value or policy she believes in. She lays out no goals for Arizonans, no vision, no commitments," Ocasio-Cortez said. "People deserve more."
Representative Jamaal Bowman, another New York progressive, took a slightly different approach.
He posted a video of Sinema's notorious flippant thumbs-down vote against raising the minimum wage, with a clip of himself giving a thumbs down superimposed on top.
"Bye Felicia!" he captioned the video.