Don't Do Today's Wordle
New York Times employees have embarked on a 24-hour walkout after the paper of record failed to meet union demands.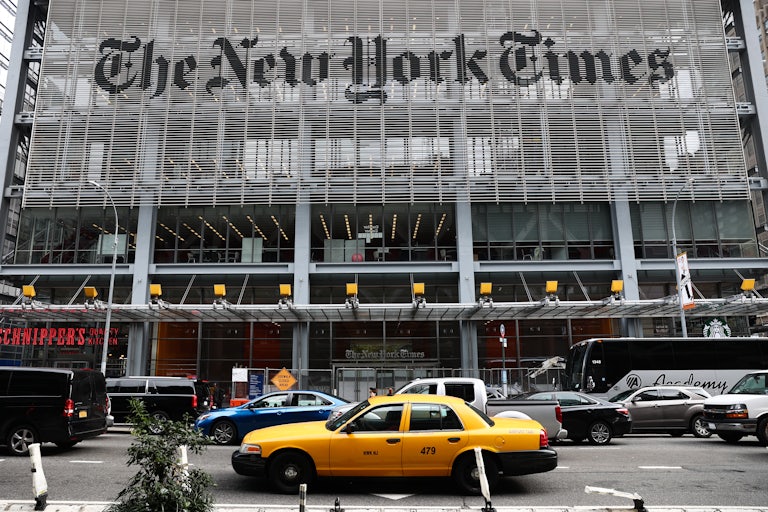 Jakub Porzycki/NurPhoto/Getty Images
Over one thousand New York Times employees have embarked on a 24-hour walkout, the first protest of its kind at the nation's paper of record in more than four decades.
Members of the NewsGuild of New York had been negotiating with management for nearly two years. Finally, the union reached a tipping point, announcing last week that more than 1,100 union members would walk out at 12:01 a.m. Thursday morning, unless a deal was made. As can be seen, no agreement was reached.
While there has been no updated contract since March 2021, staff also have not received raises in more than two years. This, while inflation and rent have both rocketed.
Negotiations had been ongoing this week, with 12 hours of bargaining on Tuesday. On Wednesday, The New York Times union guild said management "backed off its attempt to kill our pension and agreed to expand fertility benefits," but they still were short on other priorities, including pay increases and health care contributions.
The union has said some major desks will be short 90 percent of their workforce on Thursday, with some departments being essentially empty. Consequently, numerous desks will be run by managers—if at all—as employees picket outside the New York Times building.
Meanwhile, the company has directed members to work in advance of the strike in order to complete assignments.
Further, employees who walk out will not be paid. CNN retrieved an internal memo sent to employees by the Times' human resources department, reading that striking employees "will not be paid by the company for the duration of the strike" and that they "cannot use vacation or personal days to account for this time" unless it was approved before last Friday. The union has argued that this is a walkout, not a strike, since it is for limited duration.
New York Times spokesperson Danielle Rhoades Ha told the Associated Press that the Times had "solid plans in place" to continue business, including relying on international reporters and other nonunion journalists.
Thursday will reveal what a hollower New York Times looks like—and whether it really can continue business as usual, even for 24 hours.