Warnock: My Mom Grew Up Picking Somebody Else's Cotton, Now She Picked Her Son as U.S. Senator
The newly elected Georgia senator delivered a powerful speech, and made sure to thank his mom while he was at it.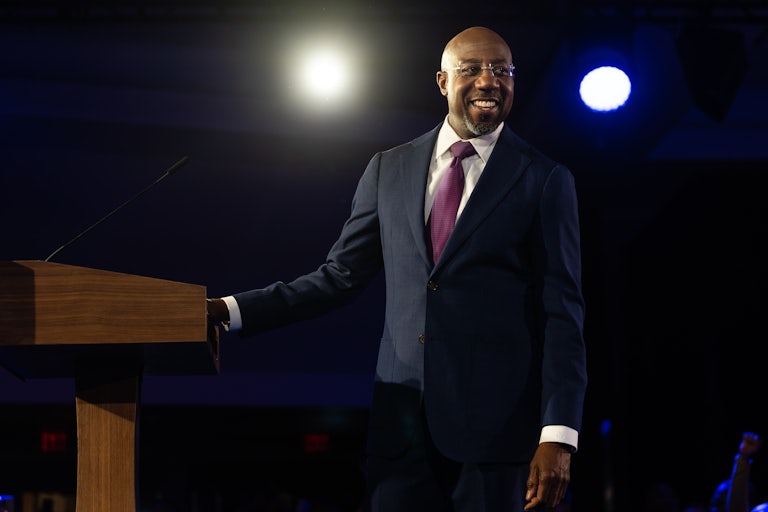 Elijah Nouvelage/Bloomberg/Getty Images
Taking the stage to roars of "six more years," Senator Raphael Warnock delivered a victory speech Tuesday night befitting someone who may end up serving in higher office one day.
And the newly re-elected Georgia senator made sure to thank his mom for helping make it all happen.
"She grew up in the 1950s, in Waycross, Georgia, picking somebody else's cotton and somebody else's tobacco," Warnock said. "But tonight, she helped pick her youngest son to be a United States senator."
Warnock, a progressive pastor who leads the same church Martin Luther King Jr. preached at, also thanked voters for showing up in the run-off elections.
"I often say that a vote is a kind of prayer for the world we desire for ourselves and for our children."

"Here is what I've learned as a pastor," Warnock continued. "You can't lead the people unless you love the people. You can't love the people unless you know the people. And you can't know the people unless you walk among the people. You cannot serve me if you cannot see me."

Warnock later explained how his own children empower him to better the world. "You help inspire me to do my part to build a world befitting of the curiosity, the creativity and the possibility that I see in your eyes and in the eyes of all of our children."

Warnock's victory and spirited remarks serve to remind that Democrats actually have a wide bench for a post-Biden era.

Warnock, a man elected twice in a state that otherwise resoundingly elected Republicans statewide; newly-elected Pennsylvania Governor Josh Shapiro and Senator John Fetterman who both displayed that "social issues" are not in conflict with "kitchen table issues," and are actually winning items; Gretchen Whitmer, who has had as much success in Michigan as media-favorite Ron DeSantis has had in Florida.
They are among Democrats who have committed to generally progressive stances, while still winning impressively. Much of that is perhaps spurred by Warnock's simple, closing thought: "I want all of Georgia to know, whether you voted for me or not, that every single day I am going to keep working for you."
You can watch Warnock's full victory speech here.