Herschel Walker's Ex-Girlfriend Details Abuse: "I Have to Say What I Know"
Cheryl Parsa, who says she dated Herschel Walker, said the Georgia Senate candidate grabbed her throat and threw a punch that missed.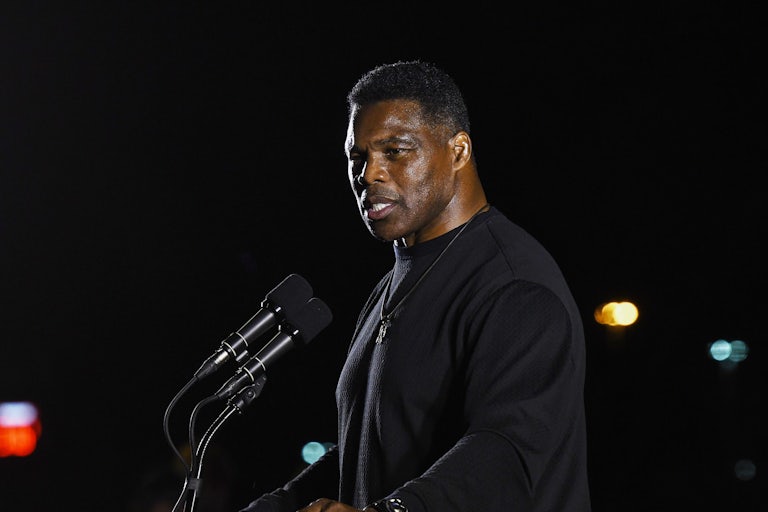 Paul Hennessy/SOPA Images/LightRocket/Getty Images
A woman who says she was in a romantic relationship with Herschel Walker says the Georgia Senate candidate abused her and is lying to American voters.
Cheryl Parsa, who dated Walker for five years in the early 2000s, told NBC that he physically attacked her in 2005 after she caught him with another woman.
When Parsa confronted him, Walker backed her against a wall and grabbed her throat. "You want to see a man? I'll show you a man!" he shouted, his face so close to hers that he sprayed her with saliva.
Walker then tried to punch her, but Parsa says she was able to dodge and get away.
"I believe the deception now is on the American people, and I have to say what I know," she said in an interview Sunday.
Parsa has also described Walker's manipulative tendencies. She attended a few of his sessions with a therapist helping him work to control his dissociative identity disorder, or DID, a mental health condition where people have multiple, distinct personalities. Both Walker and his therapist convinced her to stay in the relationship longer than she wanted, insisting she was the only one who could save him from himself.

"He knows how to manipulate his disease, in order to manipulate people, while at times being simultaneously completely out of control," she told The Daily Beast on Friday.
"He is not well.… He cannot be a senator. He cannot have control over a state when he has little to no control of his mind."
Walker has been accused multiple times of physical abuse and emotional manipulation. His ex-wife and son have both said he threatened to kill them. The Daily Beast spoke with four other women, in addition to Parsa, whom Walker dated from the 1990s to the early 2010s, sometimes simultaneously.
The other women, who spoke anonymously, describe how Walker would overwhelm them with expressions of almost aggressive affection, known as "love-bombing." He also proposed to at least one of the women while seeing some of the others.
Walker has branded himself on the campaign trail as a MAGA Republican and ultraconservative traditionalist. He has condemned absentee Black fathers and does not believe in abortion.
He has not responded to Parsa's accusations, but he has denied the accusations from his ex-wife and son, who says his father is not present in his life. Walker has also denied allegations from two other women, who came forward anonymously in October, that he forced them to get abortions while they were dating.
This article has been updated to clarify Parsa's allegations.