Challenge to Republicans "Condemning" Trump: Say His Name
Republicans condemning Donald Trump for his call to terminate the U.S. Constitution seem unable to actually say the former president's name.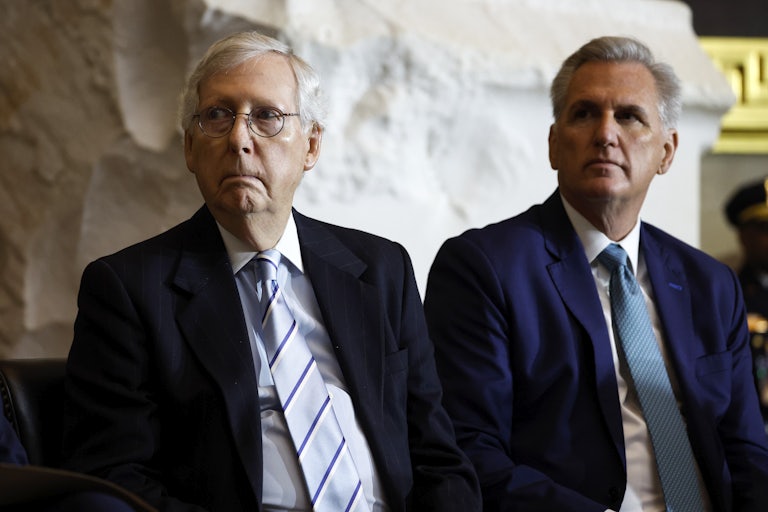 Anna Moneymaker/Getty Images
Donald Trump has made quite a splash in the first weeks of his 2024 presidential campaign. Hitting key constituencies—antisemites, racists, and election denialists—he capped it all off with a call to terminate the Constitution and crown himself unelected president.
In response, most Republicans have remained silent. Those who have spoken out have managed to carefully avoid the words "Donald Trump."
On Tuesday, asked about having to address Trump's behavior two weeks in a row, Republican Senate Leader Mitch McConnell refused to say anything actually definitive.
"What I'm saying is it would be pretty hard to be sworn in to the presidency if you're not willing to uphold the Constitution," he replied, before ignoring a follow-up question about his personal support for Trump.
This mirrors his response to Trump dining with Nick Fuentes, a Holocaust-denying white nationalist who has threatened murder against Jews and expressed approval for the Taliban. Here, McConnell said it would "be pretty hard" for someone behaving this way to become president. Then he said someone meeting with an antisemite or white supremacist is "highly unlikely to ever be elected president."
In neither instance does McConnell simply say: Donald Trump should not be president.
Also on Tuesday, Republican House Leader Kevin McCarthy—whose speakership is being challenged—could only muster, "I fully support the Constitution," before running off from having to dare elaborate.
Senators John Thune (the number two Senate Republican), Roy Blunt, Mike Rounds, John Cornyn, and others have followed suit, expressing disapproval without unequivocally denouncing Trump.
Even people likely running against Trump for the Republican nomination have hesitated saying anything.

Time after time, minus a few exceptions, if a Republican does say something about Trump's behavior, it's grounded in some abstract nod to appropriate "sentiment" or "language" or a reflection that some things are just not "responsible" to say. Seldom do these statements rise to the degree of seriousness these incidents warrant. Unfortunately, kale and yoga mats draw more ire from these Republicans than a Nazi-friendly presidential candidate.