"Little Bitch": Republicans Melt Down as Trump Faces Third Indictment
Republicans are tripping over themselves to defend Trump before even seeing the allegations against him—again.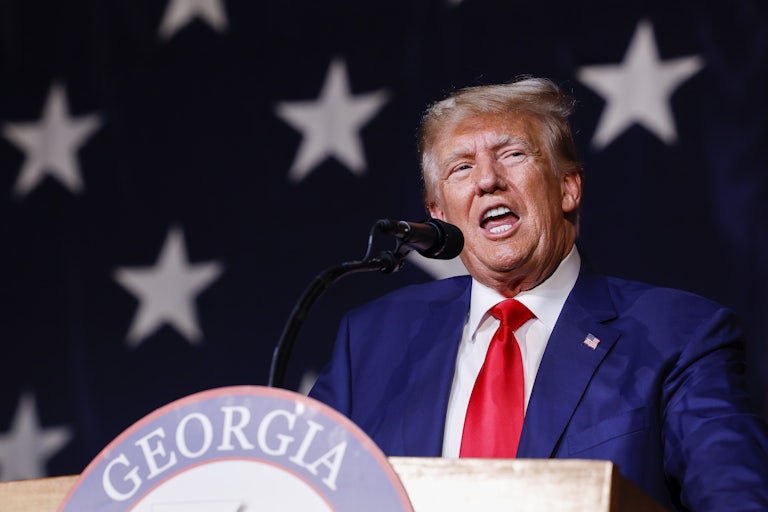 Anna Moneymaker/Getty Images
Donald Trump might be charged with crimes again, and Republicans, again, are coming out to defend him before even seeing the details of what he might be charged with.
On Sunday, the twice-impeached, twice-indicted, and liable for sexual abuse and defamation former president received a letter from the Justice Department, notifying him he was a subject of their investigation into the January 6 riots and efforts to overturn the 2020 election. Naturally he would be a subject, given that these were all events Trump was central to.
And Republicans are melting down, furious at the idea of holding someone accountable for inciting a riot on the nation's Capitol and attempting to subvert the Constitution and overthrow democracy.
"Well, I guess under a Biden administration, Biden America, you'd expect this. If you noticed recently, President Trump went up in the polls and was actually surpassing President Biden for reelection," Kevin McCarthy said, arguing that the government is only going after Trump because he is polling well. (Trump has a net negative 16 point unfavorability, according to 538's latest averages.)
In January 2021, McCarthy said the attack on the Capitol "was undemocratic, un-American, and criminal," and that "the president bears responsibility."
Marjorie Taylor Greene outright called Justice Department investigator Jack Smith "a weak little bitch." Remember: class, "civility."
"Every time they indict him, his numbers go up," famously do-nothing Representative Tim Burchett said, echoing McCarthy's sentiments.
"Donald Trump's the leader of our party," Representative Troy Nehls started. "And Donald Trump is going to beat Joe Biden, in 2024, for a second time," he continued, implying that Trump also won in 2020 (and thus perpetuating the lies that helped lead to the riot Trump is now potentially facing criminal charges for).

Former "moderate" Elise Stefanik—who grew to become a leader in defending Trump, from impeachment to election denialism—tweeted, in usual Trump-lackey fashion, "WITCH HUNT!" with the hashtag #StandWithTrump.
How sad, to center your whole life around being the loudest pawn for a player who would throw you to the side in an instant.
Somehow, Republicans—some of whom indeed condemned Trump for his role in the chaos—can't fathom this basic logic: that Trump might face consequences for his actions.
So much for personal responsibility.