E. Jean Carroll Tells Trump to Pay Up Her $5 Million After Judge Rejects New Trial
Trump loses another one.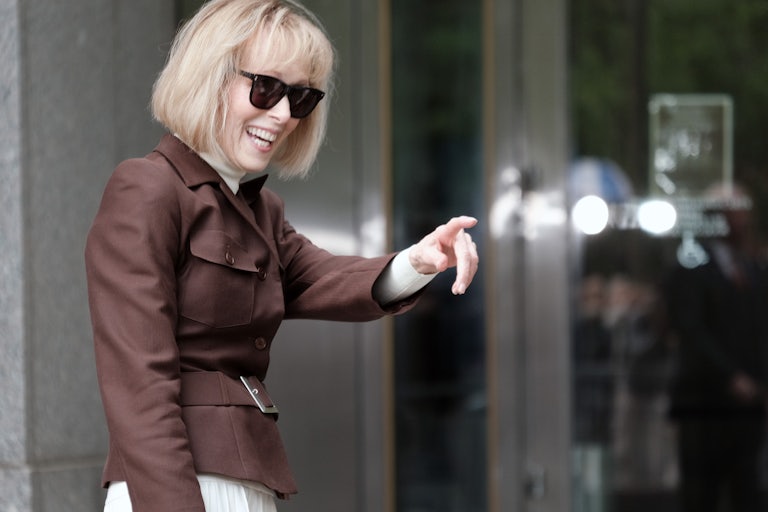 Spencer Platt/Getty Images
E. Jean Carroll
E. Jean Carroll has a message for Donald Trump: Pay me what you owe me.
Trump was unanimously found liable in May for sexual abuse and battery against Carroll in the mid-1990s, and for defaming her in 2022 while denying the assault. He was ordered to pay her about $5 million in damages.

But the former president simply could not accept the fact that he was being held accountable, and he and his lawyers asked in June for a new trial in the decided case. Trump's lawyers argued in court documents that the damages were "excessive" because the jury determined Carroll had not been raped and that his assault had not caused her any mental injury.

But presiding Judge Lewis Kaplan denied the request on Wednesday, calling Trump's arguments "entirely unpersuasive." The request "ignores the bulk of the evidence at trial [and] misinterprets the jury's verdict," Kaplan said in his decision.
Carroll's lawyer Roberta Kaplan (no relation to the judge) hailed the decision, saying in a statement, "Now that the court has denied Trump's motion for a new trial or to decrease the amount of the verdict, E Jean Carroll looks forward to receiving the $5 million in damages that the jury awarded her."
Carroll accused Trump in her 2019 memoir of raping her in the Manhattan Bergdorf Goodman department store in the mid-1990s. She initially sued him twice for defamation: first in 2019, when he said she made up the rape allegation to promote her book, and again in November for posts he made about her on social media. Carroll is not the only woman to accuse Trump of sexual assault, but her first case was the first to make it to a courtroom.
Trump continues to vehemently deny all of the allegations and launched fresh vitriol at Carroll during the disastrous CNN town hall. She amended her second lawsuit, which is still pending, to include those comments.
Trump and his allies have repeatedly tried to thwart Carroll's lawsuits, but he has been denied at every turn. And last week, he lost a major battle: The Justice Department said that it no longer considers him immune in the second defamation lawsuit.