Democrats Locked in Stupidest Fight About Whether Israel Is Racist
Democrats love to attack their own members who dare speak out on Israel.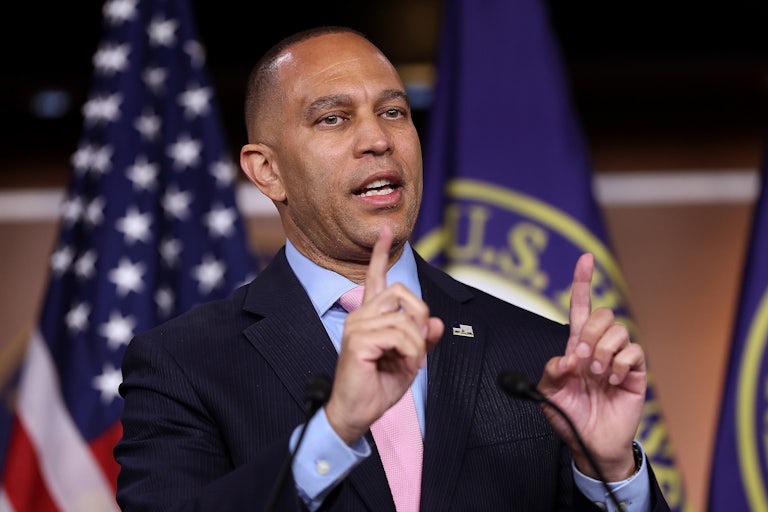 Kevin Dietsch/Getty Images
A Democrat criticizes Israel for its human rights abuses against Palestinians, and the political establishment in both parties jumps on them like sharks.
Sound familiar?
Representative Pramila Jayapal was the latest victim of the pattern after she called Israel—a state that has committed decades of human rights abuses, engaged in land dispossession and home demolition, upheld separate systems of law, and maintained a militarized police state against Palestinians—a "racist state."
Jayapal made the comments over the weekend, at the progressive Netroots Nation conference in Chicago, ahead of Israeli President Isaac Herzog's expected address to Congress on Wednesday. Representatives Alexandria Ocasio-Cortez, Ilhan Omar, and Cori Bush had already said they would boycott Herzog's address, while Jamaal Bowman had said he would "probably not" attend, either.
"The Palestinian people deserve self-determination and autonomy," Jayapal said to a group of activists at the conference, which set off the outrage machine in Washington.
Republicans have gone on an unsurprising full-throated offensive against Jayapal and her progressive colleagues (while ignoring vile antisemitism among their ranks). But Democrats too have cynically jumped in on attacking one of their own for echoing what an array of human rights organizations have already said.
Jayapal felt forced to walk back her statement on Sunday, while still calling out Israel's "extreme right-wing government," which "has engaged in discriminatory and outright racist policies." Even then, top Democrats were hungry to show how sensitive they are to bad-faith right-wing attacks and how completely insensitive they are to Palestinian rights.
"Israel is not a racist state," House Democratic leaders Hakeem Jeffries, Katherine Clark, Pete Aguilar, and Ted Lieu insisted in a joint statement Sunday. "Certainly, there are individual members of the current Israeli governing coalition with whom we strongly disagree. That is also the case with respect to some on the other side of the aisle who we serve with in the United States Congress."
Jeffries has called twice-impeached and twice-indicted former President Donald Trump a "racial arsonist" and the "grand wizard of 1600 Pennsylvania Avenue." With statements like these, Democrats have posed far-right conservatism as a fundamental threat to America's status as a democracy. But when it comes to the same issues in Israel, tone-policing seems to be their main concern.
And it was not just leadership. Representative Ritchie Torres—who like Jeffries has collected troves of donations from pro-Israel groups like AIPAC, which has deliberately worked to tank Democratic candidates and support election denialists—insisted that Israel is a "multiracial democracy" that affords people "equal protection under the laws."
Torres made the insistence in an 865-character tweet, which can only be tweeted by paying $8 to billionaire Elon Musk, who has helped contribute to the rise of antisemitism online.
The Israeli government itself has said its main guiding policy is that "the Jewish people have an exclusive and indisputable right to all areas of the Land of Israel"—something one may call state-sponsored discrimination or, indeed, racism.
Organizations from Human Rights Watch to Amnesty International have condemned Israel for its racism, human rights abuses, and systems of apartheid. The kinds of organizations the mainstream press and political establishment routinely extol. And yet, when it comes to Israel, any politician who frankly echoes such concerns is immediately attacked.
The saga mirrors Representative Rashia Tlaib being viciously attacked earlier this year for supporting an event raising awareness about the Nakba, the series of events beginning in 1948 that led to the mass displacement of Palestinians, and the occupation of Palestine that continues today. Or the party's constant attacks on Ilhan Omar for her criticism of Israel, which paved the way for Republicans to boot her from the Foreign Affairs Committee when they retook the House.
With Jayapal, Democrats are once again attacking one of their own for calling out human rights abuses and racism, something the party typically prides itself on.
"We look forward to welcoming Israeli President Isaac Herzog," the Democratic leadership assured.