Elise Stefanik Wins the Prize for Stupidest Trump Indictment Reaction
The New York Republican claims that Biden is "engulfed in one of the biggest political corruption scandals of all time."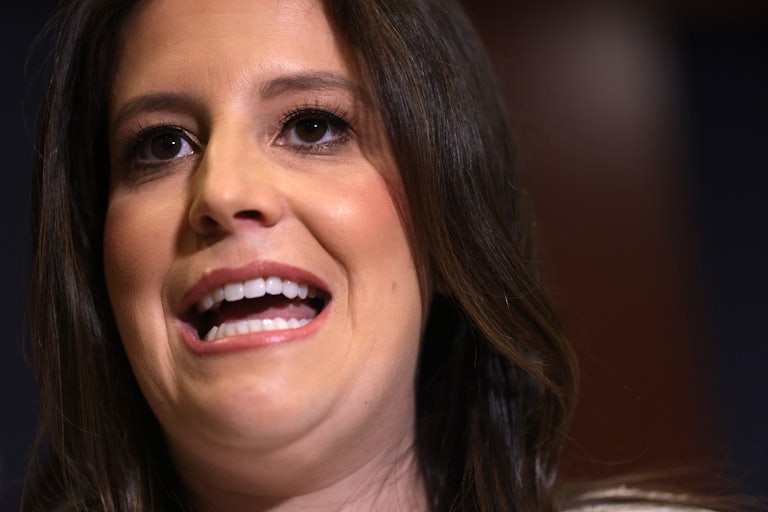 Alex Wong/Getty Images
Representative Elise Stefanik
Republicans seem completely unconcerned that their party's front-runner has been charged with trying to destroy evidence purportedly showing he stole and hid classified national security documents.
Former President Donald Trump is facing three new federal criminal charges in the documents case: two charges of obstruction of justice and an additional charge under the Espionage Act for keeping a highly classified Pentagon war plan on Iran. An employee of his, Carlos De Oliveira, was also charged with trying to erase surveillance video footage related to where the classified docs were moved.
But Republicans don't care about any of it. House Republican Conference Chair Elise Stefanik may have had the stupidest reaction of the whole lot. "Our Republic is in peril, our justice system is broken," she declared in a statement.
"The American people understand that Joe Biden and his administration are engulfed in one of the biggest political corruption scandals of all time," she added, referring to a Republican investigation that has produced no evidence and a star whistleblower who was charged with being a Chinese spy.
Unfortunately, other Republicans were not much better.
"What concerns me is you have a sitting president that has a situation like this … where nothing has happened," House Speaker Kevin McCarthy said.
Biden, as well as former Vice President Mike Pence, have been found in possession of classified documents. However, in both cases they handed over the documents as soon as they were discovered. Trump did not—and was accordingly charged with obstruction.
Despite CNN's Manu Raju repeatedly asking the House speaker about the obstruction charge in Trump's case, McCarthy continued to defend Trump and rant about a "two-tiered system of justice."
Senator Josh Hawley—who describes himself as "one of the nation's leading constitutional lawyers"—acted like the charges against the former president and De Oliveira were completely out of bounds.
"It's so brazen right now, what they're doing," Hawley claimed on Fox News Thursday night. "It is really a subversion of the rule of law. I mean, they're taking the rule of law, turning it on its head, and we cannot allow this to stand."
"The DOJ's decision to pursue additional charges against President Trump is further evidence of the politicization of our nation's top prosecutorial agency," Senator Marsha Blackburn tweeted Thursday night.
Senator Ted Cruz called for the impeachment of Attorney General Merrick Garland. "The Democrats hate democracy," he said, blaming the entire party for Trump's alleged crimes. "They are trying to use the machinery of law enforcement to prosecute him. I think these indictments are a disgrace."
Republican lawmakers may be rallying behind Trump because they know he still has a hold on the party. A poll released this week found that half of Republicans don't think that Trump took any classified documents at all. When he says he did nothing wrong, they believe him.