Why Is Dianne Feinstein Still in the Senate?
In a new conversation, the California senator seemed completely unaware that she wasn't in Washington, D.C., for over two months.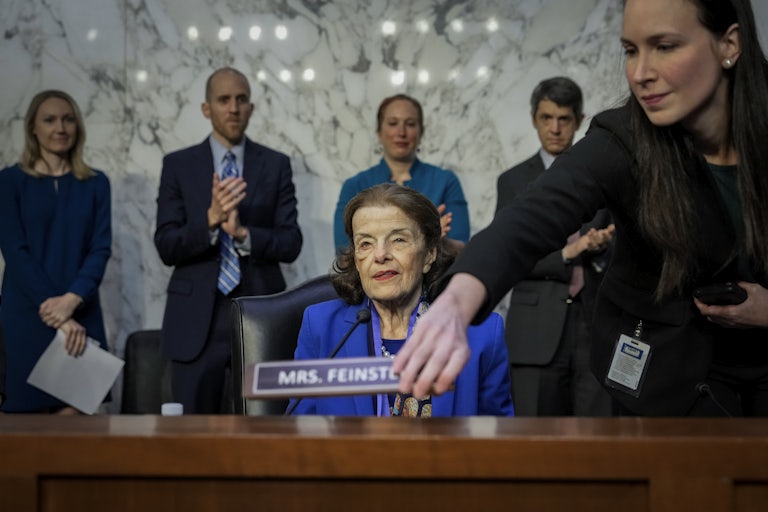 Drew Angerer/Getty Images
Dianne Feinstein seems to think she was never on a leave of absence from her job.
On Tuesday, Senator Dianne Feinstein, flanked by a team of staffers, fielded some questions from the press after voting on the Senate floor, reports Slate.
She reported that she was "feeling fine," though suffering from a nondescript "problem with the leg."
She was then asked by a reporter what the response from her colleagues has been like since her return back to the Hill.
"No, I haven't been gone," Feinstein responded. "You should follow the—I haven't been gone. I've been working," she continued.
She was then asked if she meant she had been working from home.
"No, I've been here. I've been voting," she insisted. "Please. You either know or don't know."
The comment is curious given the gravity of how consequential Feinstein's absence—and indeed, lack of voting—has been over the past few months. Feinstein has been absent from the Senate since February 27, having been hospitalized in early March for a case of shingles.
During that time, Democrats were unable to advance court nominees. Her absence has been used by senators like Dick Durbin as justification for why Supreme Court ethics legislation cannot be advanced. Republicans, aided by weak politicians like Joe Manchin, have been able to vote to pass inane resolutions like overturning an Environmental Protection Agency rule to reduce truck pollution.
When Feinstein was asked Tuesday about members who have called for her resignation, she deflected and was apparently wheeled away.
Slate asked Senator Sheldon Whitehouse about whether there was any optimism for Feinstein to return to being a fully functioning, contributing member of the Judiciary Committee.
"I'm gonna leave that to the medics," he responded.