Man Charged With Covid Unemployment Fraud Votes for Bill to Stop Covid Unemployment Fraud
George Santos, everyone.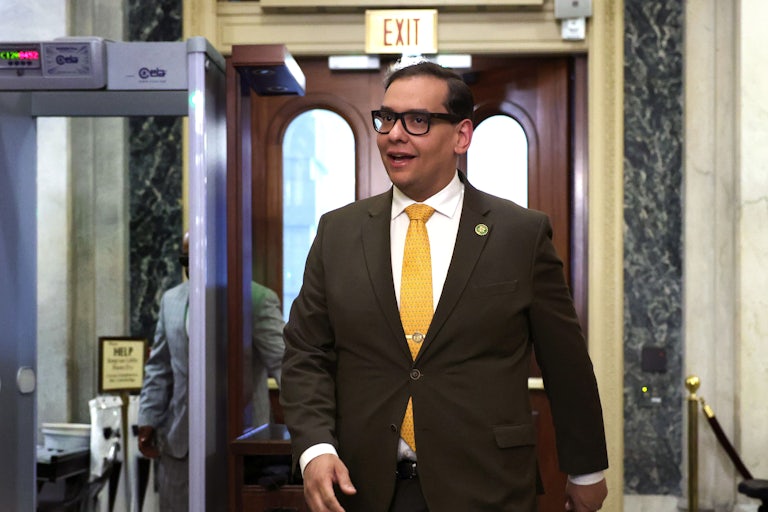 Alex Wong/Getty Images
A man who says he is from Long Island and charged with committing unemployment fraud has voted to pass a bill to prevent unemployment fraud.
On Tuesday, George Santos was indicted on 13 counts related to money laundering, wire fraud, lying to Congress, and public theft of funds. That includes a charge of fraudulently claiming $24,000 in Covid unemployment benefits while making a $120,000 salary.
Just two days later, House Republicans passed a bill that purportedly aims to recoup Covid-19 unemployment benefits from fraudulent claimants. And Santos—who has either no self-awareness or a really great appreciation of irony—voted with them.
Many Republicans who've refused to disavow Santos also voted for the Protecting Taxpayers and Victims of Unemployment Fraud Act, a bill Santos co-sponsored.
Santos has pleaded not guilty to all charges and reached an agreement to be released on a $500,000 bond.

He has received permission to continue campaign activity, being only allowed to travel to New York City and Washington, D.C. To travel outside of those areas, he will need to obtain special permission from the government. The agreement enabled him to return back to the Hill and vote on a bill that, ideally, would stop crimes like the ones he allegedly committed.
The agreement potentially offers House Speaker Kevin McCarthy a smidgen of breathing room, amid Republican efforts to impose work requirements on Medicaid and SNAP benefits during debt ceiling negotiations.
Meanwhile, the unemployment fraud bill, which could in fact weaken the government's ability to investigate fraud cases, passed 230–200.
At the very least, Santos's colleagues seem to see it all as validation for the bill: