DOJ: Systemic Problems Led to George Floyd's Murder
A report released on Friday found that the Minneapolis Police Department discriminated against racial minorities for years before Floyd's death in 2020.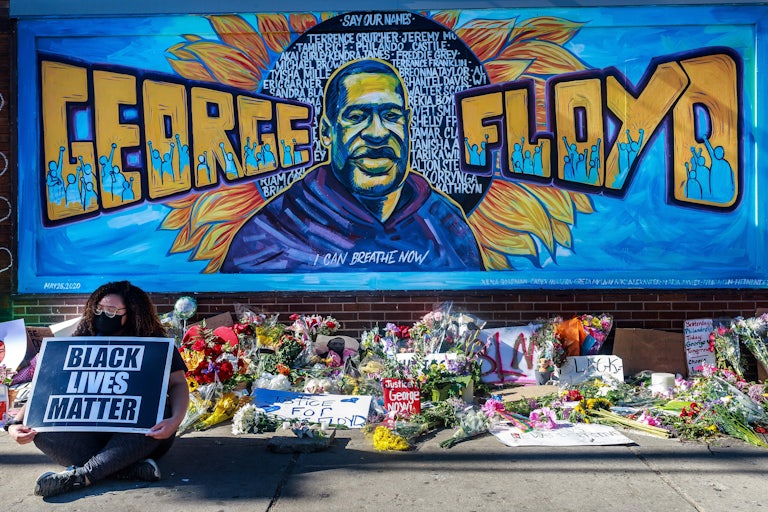 Photo by KEREM YUCEL/AFP/Getty Images
A mural dedicated to George Floyd near where he was murdered in Minneapolis
The Minneapolis Police Department systemically used excessive force and discriminated against racial minorities for years ahead of the police killing of George Floyd, the Department of Justice said Friday.
Floyd, a Black man, was murdered while being handcuffed and pinned down during an arrest on March 25, 2020. His death sparked an international wave of protests against systemic racism and police brutality, and led the Justice Department to launch a probe into the city's policing policies.
"The patterns and practices we observed made what happened to George Floyd possible," Attorney General Merrick Garland said during a press conference.
The 89-page report slams the Minneapolis Police Department for using "dangerous tactics and weapons," including neck restraints and Tasers for small or even nonexistent offenses. The report found police punished residents who criticized the department, patrolled neighborhoods differently based on their racial demographics, and discriminated against people with behavioral health disabilities.
The Justice Department also found the Minneapolis Police Department's accountability procedures were "fundamentally flawed," as senior officers regularly dismissed legitimate complaints or mischaracterized allegations, causing any internal investigations to stall.
In light of the report's findings, Minneapolis agreed to negotiate a court-enforced deal for a massive overhaul of its police force. While this is an important step forward, Black Americans still face daily discrimination and are concerned about the level of racism in society.
A new Washington Post-Ipsos poll found that 51 percent of Black Americans believe racism will get worse in their lifetime.