Bill Barr: No Doubt Jack Smith Has More Goods on Trump
Trump's former attorney general destroyed his legal team's arguments.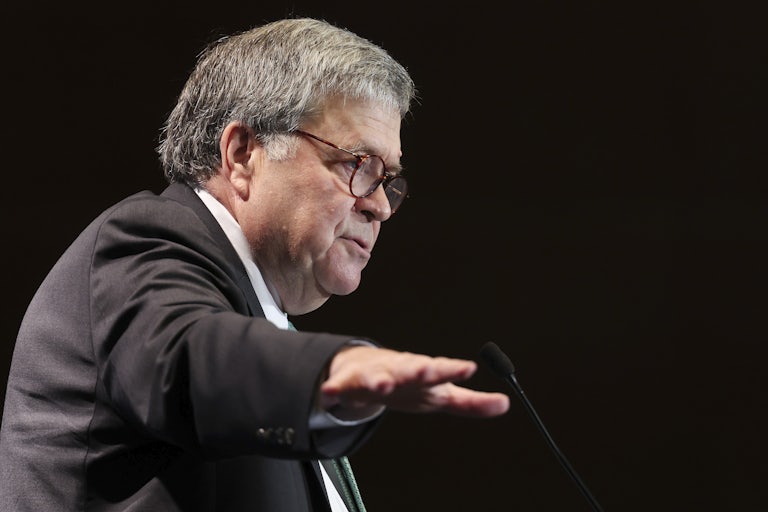 Win McNamee/Getty Images
Former U.S. Attorney General Bill Barr
Former U.S. Attorney General Bill Barr destroyed Donald Trump's argument that he shouldn't be indicted a third time because he was only using his First Amendment rights.
Trump was charged Tuesday for attempting to overturn the 2020 presidential election. He faces four counts that include conspiracy to defraud the United States, conspiracy to corruptly obstruct an official proceeding, obstruction of and attempt to obstruct an official proceeding, and conspiracy against the right to vote. Among his legal team's many wild defenses is that the former president is being attacked for exercising his right to free speech.
But Barr quickly dismantled that defense. "I really don't think that's a valid argument," he told CNN's Kaitlan Collins Wednesday night. "As the indictment says, they're not attacking his First Amendment right. He can say whatever he wants. He can even lie. He can even tell people that the election was stolen when he knew better."
"But that does not protect you from entering into a conspiracy," Barr continued. "All conspiracies involve speech. And all fraud involves speech. So free speech doesn't give you the right to engage in a fraudulent conspiracy."
Barr also warned that the Justice Department likely has "a lot more" evidence to come, and the indictment on Thursday is just the "tip of the iceberg."
"That's one of the things that impressed me about the indictment," said Barr. "It was very spare, and there were a lot of things he could have said in there, and I think there's a lot more to come, and I think they have a lot more evidence as to President Trump's state of mind."

Trump is due to be arraigned Thursday afternoon in Washington, D.C., just the latest in a long string of various legal troubles. The twice-impeached president has been charged with business fraud in New York for his alleged role in making hush-money payments to Stormy Daniels. He was also charged with keeping national defense information without authorization, making false statements, and conspiring to obstruct justice.

Trump is likely to be indicted in Georgia in the next few weeks for his role in trying to overturn the 2020 presidential election—despite a failed attempt to block that probe. And he has been found liable of sexual abuse and defamation, and sued for defamation again.